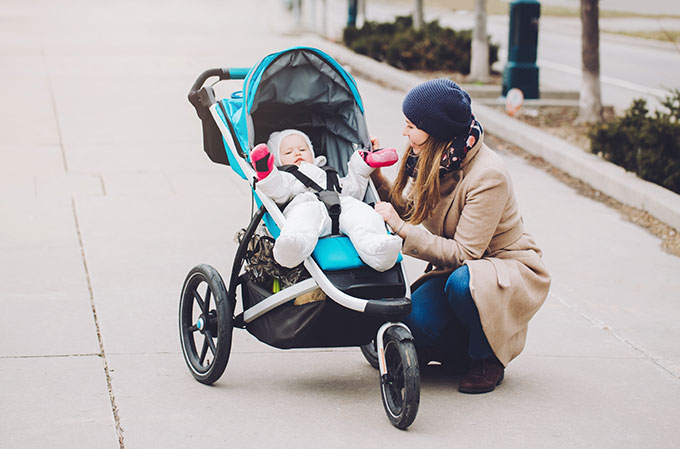 All terrain strollers are the best to roll over every surface. You can take them on gravel roads and uneven pathways. They give better performance than any best regular stroller when you use them on rough strolling paths. Cobblestones and bumpy roads are not an issue for them. These are the best suitable strollers for city living.
One fantastic thing about this class of strollers is that they have the specification of super-smooth maneuverability. These strollers are of the hybrid class, which can fill the needs of routine outings and running. However, all the strollers of this class are not suitable for running.
Bugaboo Fox with Advanced Suspension
Here comes the most beautiful and elegant stroller, Bugaboo Fox, which offers all terrain 4-wheels and advanced suspension. It gives an incredible turning radius for a smooth ride. This stroller undergoes 1500 safety tests to assure complete baby safety. 
Leather made hand grip on the handlebar gives the stroller a unique executive look. Moreover, you can replace the handlebar grip with your favorite color and design. Fox is easily push-able even with one hand.
Fox is the high-end luxury all terrain stroller that comes with unique features. From assembling to folding, it has a beautiful structure. It's easy to use and has an effortless push to give the best strolling experience. Let's have a look at its exclusive features.
Versatile Convenience
Fox is a versatile stroller that gives convenience with its multiple uses. It gives you two options for newborns to either use its bassinet or use it with a car seat(sold separately). When the baby comes to the toddler stage, its regular seat will serve the baby in multi-position inclining. It comes with a machine washable UPF 50+ canopy. The ultra-soft fabric of its seat provides comfort to the baby. Its wheel caps and handlebar grips are available in various colors and styles, replace them according to your choice.
Cozy Bassinet
The most impressive option that Fox offers is its cozy bassinet for newborn. Bassinet gives this stroller multi-purpose use option. You can easily use it from birth to different toddler stages. The stroller's seat is removable to snap into the bassinet.
Car Seat Compatible
Another luxury after bassinet that this stroller gives is its car seat compatibility. You can snap into the Bugaboo Turtle car seat without any adapter. You will need separate adapters for other top car seat brands, including Maxi Cosi, Chico, Clek, Nuna, Peg Perego, Britax, and Cybex.
Height-Adjustable Handlebar
This stroller allows you to adjust the height of its handlebar. Parents of different heights can easily adjust the handlebar at the desired point to get enough kick room to push the stroller with ease.
3-Position Reversible Seat
The stroller's seat is adjustable in three positions. You can fix it to a flat place for napping. If the baby wants to see the world, adjust the seat to an upright position, and go on. With a reversible seat option, you can modify it in a reversible mode for keeping watch on your baby.
Extra Large Under-seat Basket
This stroller gives vast storage space with its extra-large basket. This feature makes your life very easy for grocery stores and shopping mall tours. The basket can keep little things safe inside.
Made with Recycled Fabrics
An environment-friendly motive is behind this stroller. This stroller is made from recycled plastic. Up to 92% of recycled plastic is used to create this high-quality stroller.
Compact, Self Standing Fold
Fox has a fantastic one-piece compact folding. It folds down in one piece and can self stand after folding. Being compact folded, it gives you much convenience of storing at home or in the trunk.
All-Wheel Suspension
The suspension is the must-have feature for an all-terrain stroller. Bugaboo Fox is one step ahead with its all-wheel suspension, making it a super comfortable stroller that gives the real experience of strolling.
All-Terrain Wheels
With the all-wheel suspension, all-terrain wheels are icing on the cake, giving the incredible experience of little trips. Wheels caps and handlebar grip can be replaced and customized. Moreover, its soft tires help to provide a stress-free ride.
Effortless Push
All wheel suspension with all terrain wheels makes Fox capable to give very soft, smooth-rolling with its specifically engineered four wheels structure. You can easily pass on corners and uneven pathways. Bumpy roads will be no more problem for you when you are pushing this stroller.
Seamless Maneuverability
Bugaboo Fox has the unique feature of seamless maneuverability. It gives a very comfortable ride for both kids and parents. This stroller already has effortless push so it's capable of giving a soft ride.
Technical Details
The manufacturer provides these details.
| | |
| --- | --- |
| Item Weight | 21.8 pounds |
| Product Dimensions | 25.98 x 21.25 x 7.48 inches |
| Maximum weight recommendation | 48.5 Pounds |
Don't Ignore
Fox falls in the expensive class of strollers. It's a pricey stroller with high-end quality specs. Moreover, this stroller doesn't support running. Fox is the best fit for city living. Overall it's a sturdy stroller and will be your best companion from birth to toddler stages. It's a fully loaded stroller that comes with a bassinet and rain cover in the box. Overall, it gives the best value for your money if you want luxury all terrain stroller.
---
BOB Gear All Terrain Pro
It's a beautiful stroller with a sleek design and gives excellent performance. Bob Pro offers a lot of options. With its bigger air-filled tires, this stroller gives very smooth maneuverability. Deeper tread on tires provides better road grip and wonderful experience of jogging with it.
This stroller is suitable to use in every weather. With its ultra-padded compression seat, it gives a very comfortable sitting posture for the baby.
This stroller offers all the essential features that are required to give the real pleasure of strolling. From seating to rolling, this is a fantastic stroller. Let's have a look at its exceptional features.
Multi-Purpose Use
It offers flexible usability and can fill your different strolling needs from regular walks to workouts. With its ability to be a travel system ready, it gives three strollers in one box. You can convert it to a travel system by attaching its compatible car seat. Use it as a regular stroller for a toddler. Make it for jogging by locking its front swivel wheel.
Travel System Ready
Bob Pro is a travel system-ready stroller. You can attach a Chicco Infant Car Seat with an adapter(sold separately). With this option, you can easily use this stroller from birth.
Air Filled Tires
This stroller comes with air-filled tires to give a smooth and soft ride. You can easily roll on the stroller with less force. The front swivel wheel locking option gives stable maneuverability during your jog.
SmoothShox suspension
Bob Pro has SmoothShox suspension that gives a balanced ride and absorbs the shocks from bumpy roads, making it one of the best all-terrain strollers. Along with its air-filled tires, the responsive suspension works to provide maximum comfort of the ride during sidewalks and running.
Elegant Design
This stroller has a very graceful, sleek design that gives it an elegant look. With its glossy frame and reflective rims, it becomes a head-turner. Its fabric has an executive look and feel.
All-Weather Use
Bob Gear is usable in every weather. It comes with a waterproof and windproof canopy that gives complete protection to the baby from wind and raindrops. Moreover, the canopy is UPF 50+ to provide added protection from ultraviolet rays.
Adjustable Handlebar
Bob Pro gives you the option to adjust the handlebar at your convenient position. Parents of different heights can adjust the handlebar according to their comfort level. So you can get sufficient kick room to roll on the stroller after adjusting the handlebar.
Nap Friendly Reclining Seat
This stroller has a reclining seat to give a good lay-down position for the baby. Baby can take little sleep with its nap-friendly reclining seat. Moreover, its 'Ultra-Padded Compression' seat provides the baby with a very comfortable sitting posture.
Downhill Control
Ergonomic hand brakes give you full control over the stroller. Controls are provided on the handlebar, and you can easily control speed when going downhill.
Storage Options
This stroller has multiple storage rooms. A basket underneath gives space for your little things. Moreover, a zip-top cover over the basket gives safety to small items. It has five extra pockets to provide additional storage. A cell phone holder is also given to keep your cell phone.
Canopy & Tether Strap
The canopy is waterproof and has some additional specs like reflective accents for safety and a magnetic peek and chat window. A tether strap on the handlebar for parents to wear on their wrist gives protection for strollers.
Fold & Go
Bob Pro has the fold & go ability with super easy folding. With its chassis lock, you can easily store the stroller. With its ability to self stand, it can be placed in the house safely. Wheels are removable that makes them able to give smart fold.
Technical Details
The manufacturer provides these details.
| | |
| --- | --- |
| Item Weight | 32.3 pounds |
| Product Dimensions | 46 x 25.5 x 45.5 inches |
| Maximum weight recommendation | 75 Pounds |
Don't Ignore
Because of its suspension and bigger wheels, storing Bob Pro in small cars may be challenging. If you're of extra tall height, then this stroller may not give you sufficient kick room while rolling on.
However, Bob Pro is one of the best all terrain strollers that come with exceptional features. It gives value for your money with its smooth maneuverability and comfortable ride.
---
---
Joovy Zoom 360 Ultralight
Joovy's excellent stroller, 360 Ultralight, comes with a beautiful design and sturdy chassis made of aluminum. Due to its lightweight feature, this stroller will add comfort to your life whether you use it for a routine outing or for running.
360 Ultralight has air-filled three wheels supported with a responsive shock-absorbing system. Sixteen inches large rear wheels and front 12.5 swivel give a smooth ride with complete control over the stroller.
Joovy has added all the needed features to this stroller to make it suitable for regular walks and running. Its striking features are outstanding and contribute to fully enjoyable strolling. Let's have a look at its features.
Travel System Ready
You just need a car seat adapter(sold separately) to snap into a car seat for converting it to a travel system. So for routine strolling, you can also use this stroller for newborns. Travel-system ready option gives you all in one stroller in one purchase.
Extra Wide Seat
This stroller comes with an extra-wide seat with a high sitting posture to give a broad view to the child inside the stroller. Moreover, its seat with a multi-position recline provides a cozy nap for little kids. Ample legroom inside the seat gives added comfort during strolling trips.
Easy To Clean
Care and cleaning of 360 Ultralight are effortless. You can clean its washable material with soap and water. The aluminum frame will not rust due to moisture.
Parent Organizer
It has a nice parent organizer, which is a good accessory. Organizers can easily fit large bottles safely. A zipped pocket in the organizer provides secure storage for wallet and mobile phone etc.
Tire Pump
We cannot name it as a feature. It's a life easing accessory that Joovy provides with this stroller. The tire pump gives the comfort to fill the air in tires anywhere and any time. You can easily carry this pump in your car. So little family trips and short outings with this stroller will give the perfect pleasure of strolling.
Running Leash
This is an additional safety feature to keep the stroller secure. Running-leash will give you extra control over the stroller. With the leash on your wrist, the stroller will not roll on by itself when you take a little stop.
Huge Canopy
Unique style canopy gives a cool look and provides sufficient sun protection. A large size canopy helps the child to take a nap during your little strolling trips.
Easy Compact Fold
Very easy to fold and has a compact fold that makes its storage entirely effortless, whether in the car or the room. It can stand on its own when folded.
Technical Details
The manufacturer provides these details.
| | |
| --- | --- |
| Item Weight | 25.7 pounds |
| Product Dimensions | 54 x 25 x 46 inches |
| Maximum weight recommendation | 75 Pounds |
Don't Ignore
360 Ultralight comes with great features, but you will not find some options like brakes and handlebar adjustment. Its seat is not feasible for a tall child. Moreover, the storage compartment is suitable for small items.
Overall this is a wonderful stroller with super easy maneuverability. It's a durable gadget with a comfortable seat and decent construction. Wins the trust of many satisfied parents and earned several positive reviews.
---
Let's Conclude
So this is the entire list of best available all terrain strollers for city living. You can choose any one of the strollers in the list above according to your requirements. If you are in search of the best all terrain stroller that can help you in workout then go for BOB Gear All Terrain Pro or Joovy Zoom 360 Ultralight.
If you need an all terrain 4-wheel stroller then you can consider Bugaboo Fox. Hope that this article has helped you in finding the right product. If you have any queries or suggestions just ask me below in the comment section.
Happy Strolling!