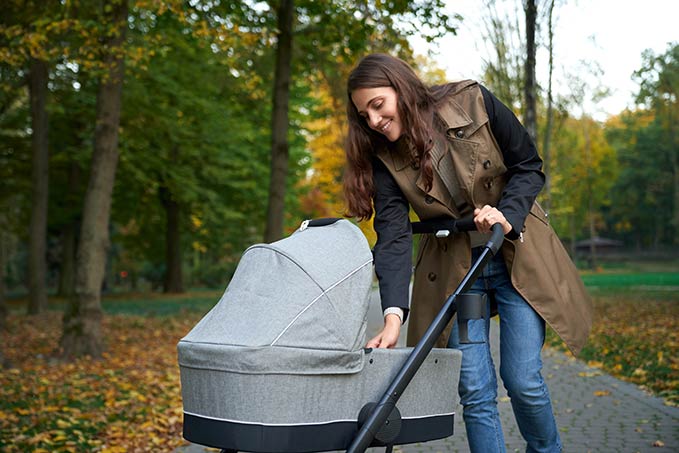 Are you looking for an infant stroller? A bassinet stroller is the best match for your needs. However, people also buy a regular stroller that can recline flat to accommodate the newborn. Yes, it's good but doesn't work as the bassinet. The bassinet provides a comfortable little bed for the baby and gives extra protection with its boundaries.
For newborns, usually, parents have three strolling options. You can carry the baby inside an infant car seat. The other option most strollers give with their flat reclining seats to carry the newborn. The last and the most secure option is the stroller with the bassinet. The bassinet provides a flat surface for the baby to lay down, which you'll not find in the infant capsule. My detailed article on buying a baby stroller will help you to better understand the exact match for your need.
In this article, you will find the top-rated best bassinet strollers. Before diving below, I'll recommend you to read my article "What Kind Of Stroller To Use For A Newborn?" to know all ins and outs about bassinet strollers. That article is a complete guide that will help you better understand the bassinet strollers, their alternatives, and their advantages.
Exclusive List Of Best Bassinet Strollers
Hot Mom Baby Pram 2020
Maximum weight recommendation: 35 Pounds
Top of the list Hot Mom Baby Pram is a beautifully designed slim and sleek stroller that offers many options. With its exceptional features, it gives a lot of gift accessories in the box. A comfortable and durable stroller provides a very smooth ride with its easily maneuverable 360° rotation function. Moreover, the bigger rear wheels contribute further to the effortless rolling of this stroller.
Hot Mom made it a travel system ready with its adapter, which you'll find in the box (Excluding car seat). Its adapter allows Maxi Cosi Cabriofix, Maxi-Cosi Mico max 30 infant, Maxi-Cosi CITI, and Cybex Aton 5 infant car seats to fit in. let's take a peek into its specs.
PU Leather Seat
PU leather material is used on seats. PU leather is artificial leather that feels and looks like real leather. It gives the stroller a premium look. With the ability to be waterproof, the seat is easily cleanable. Moreover, you'll not have to worry about the mess that the baby creates on the seat.
360 Degree Rotation Function
That's an excellent function for a baby stroller that helps parents move on quickly with the stroller. This function provides effortless maneuverability. The stroller is already slim and compact, so it becomes easier to roll on with this innovative 360-degree rotation.
Larger Rear Wheels
With its bigger rear wheels, this stroller provides an extra smooth ride and gives easy maneuverability. Unlike the air-filled tires, you don't need to fill the air. Rubber tires provide a soft ride and allow strollers to roll on quickly.
Adjustable Seat
The seat provides three inclinations. You can adjust it to 95° when the baby wants to sit. For a cozy nap, you can further adjust it to 135° and 175°. Its comfortable seat helps the baby in little sleep. A three-position recline allows you to fix the seat at your desired point among the given positions.
Turns Into a Dining Chair
Another fantastic option this stroller offers is its seat turns into a dining chair. This feature helps babies to join the feast with parents anywhere, whether it's home or restaurant. With this perk, the stroller converts into a ready-made high chair. So it's an added luxury that you'll get with this troller.
Adjustable Handlebar
The handlebar position is adjustable. However, you can't adjust the height of the handlebar. It provides a pivoting adjustment of the handlebar, which is adjustable to get a better kick room for pushing the stroller at your comfort level.
Accessible Bottom Storage
It has a stylish cloth basket underneath, which provides a vast space to store various items like diaper bags, coats, baby's clothes, and grocery shopping. The cloth basket is stretchable and expands to store a lot of sundries inside.
Bonus Accessories
Hot Mom gives several accessories as a bonus with this stroller. You'll get in the box a rain cover, mosquito net, and a wristband. Above all, an adapter for the infant car seat to convert this stroller into a travel system. So it offers a great deal in one box.
Don't Neglect
Because it's a sturdy and durable stroller, it b becomes a heavy one. The bassinet that comes with the stroller is suitable to use only with the stroller. It's not sturdy enough to use alone. Overall, it's a great stroller that gives great value for money.
Baby Joy Baby Stroller
Maximum weight recommendation: 33 Pounds
Baby Joy offers a great stroller with prominent options at a budget price. This lovely stroller will help you to fulfill your daily strolling needs with smooth maneuverability. Its stylish seat is comfortable and padded to provide relaxed seating for babies that help to take cozy naps. Moreover, a foot cover with the seat helps to protect the baby in winters fully. The foot cover is removable to make comfortable rides in summers.
It has adjustable awnings with a small skylight that effectively blocks rain and UV rays. The bassinet for newborns has ventilation nets to provide proper airflow in summer. The storage basket underneath for storing little sundries and a carry bag for extra storage helps a lot. Let's discuss its exceptional features.
2-IN-1 Baby Stroller
Baby Joy offers two strollers in one box. It gives the luxury to use for a newborn with the bassinet and toddler with its stylish seat. It gives the ease of filling all your strolling needs in a single purchase.
Lightweight Aluminum Structure
It has an aluminum frame that gives it a lightweight structure. A stroller becomes very easy to handle and maneuver when it has a lighter architecture. The aluminum frame is also sturdy and lasts for a long time. 
Flexible & Bigger Rubber Wheels
Rubber wheels with a bigger radius, front 8 inches, and rear 12 inches, provide a very soft ride. Moreover, flexible rubber material adds further smoothness to the ride and makes rolling very easy.
Life Easing Options
This stroller gives many life easing options that add more luxury and value for money to give the best strolling experience. It has a five-point harness for the child's safety inside the seat. Its parking foot brake gives protection during breaks. 
The seat's backrest has a tilt adjustment to help the baby is napping. Foot cover to use in winter, and it's removable so you can remove it in summer. The bumper bar is also removable. These are the great benefits of this stroller.
3-section canopy design
Its beautiful canopy provides sufficient sun protection with ultraviolet shelter. The canopy gives hassle-free three-section adjustment. So you can quickly fix the canopy at any suitable position.
Bonus Accessories
Baby Joy gives bonus accessories with this stroller that are dollar saving. You'll get a carry bag inside, which can be used as a diaper bag or to keep any other little thing that fits inside. A rain cover and mosquito net are also available in the box. 
Don't Neglect
Baby Joy says it has a compact folding design, yes, compact for sufficient spaces. But if you have a small car trunk, then its storage may be challenging for you. Overall it is the best affordable bassinet stroller, which offers a durable product.
Graco Modes Pramette Stroller
Weight Limit For bassinet: 15 lbs
Graco gives three strollers inside Pramette. A regular stroller for toddlers, an infant car seat carrier, and a bassinet stroller. So all your strolling needs are filled with just one purchase. Graco made it lightweight and sturdy that gives better maneuverability along with a lot of other useful options. Let's have a look at its features.
Accepts Car seat
You can attach any Graco infant Car seat to it. Being compatible with an infant capsule enables you to convert this stroller into a travel system. So you can carry a newborn in a bassinet or car seat based upon the need. The infant car seat is not given in the box. You'll have to purchase one separately.
Reversible stroller seat
You can play with its seat, that's great. You can fix the seat at any of the two positions. Adjust to front-facing if the little one wants to see the world and adjust it towards you if you want to see the little one. 
Child's Tray
The child's tray gives ample space to serve the little dining to your loving baby right on the seat. You can place snacks on the tray and cup holder for placing little bottles. An organizer for parents with a cup holder and phone compartment is also part of this stroller. Great for the babies and convenient for parents.
Huge Storage Space
Graco gives a huge storage basket with the stroller. That's the wow feature of this stroller. Graco Modes is the highly recommended stroller if you want the best bassinet stroller with massive storage space.
One-hand stroller fold
Another plus point of this stroller, it has an easy one-handed fold. So give the ease of folding and saves the time of busy routine. One-hand fold enables you to fold down the stroller easily when you're holding your baby.
Don't Neglect
Yes, this stroller has a one-handed fold, but it's bulky when folded, and also it can't self stand when folded. It can be folded flat when the seat is front-facing. With a rear-facing seat option, you'll have to remove the seat.
However, it's an affordable stroller that gives many luxury features at an economical price with durability. So you can consider it if folding is not an issue for you.
Let's Conclude
All the strollers in the list are carefully selected based on their ratings and reviews from parents who used this stroller. These are the best bassinet strollers available on the market that give the best value for your money. I've selected only the three strollers to make a final choice easily. 
Two strollers in the above list allow the car seat to fit in. Hot Mom and Graco Modes allow car seat, and they are travel system ready bassinet strollers. So they give an extra perk of being three in one stroller. However, you can choose any stroller that touches your heart in the above list.
I do hope that this article has helped you in making a final choice. If you've any queries or any suggestions, please ask me below in the comment box.
Happy Strolling!