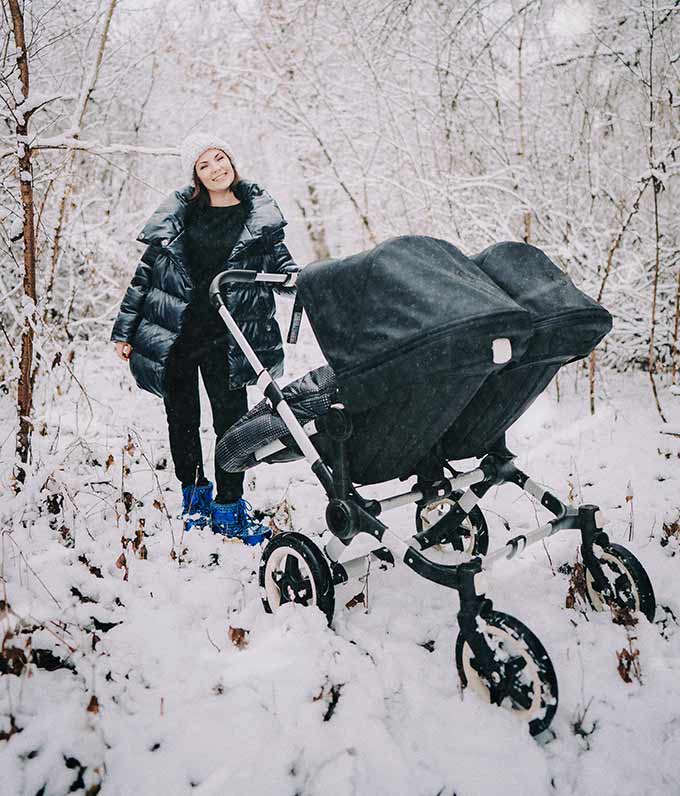 When it comes to buying a double stroller, parents have many options and they can be overwhelmed with all the choices. It's important to remember that not all side-by-side double strollers are created equal. There are so many different features you should look for when deciding on which one is best for your family. With this in mind, we've compiled a list of six of the best side-by-side twin strollers available today.
It might seem like a challenge to find the perfect stroller for twins, but it is not as difficult as one would think. Side by side seating has been proven to be more appealing than single seats because each child gets their own canopy with enough room underneath the seat for snacks or other personal items while traveling outside of the home.
Do you know the best part about this type of chairs? When both children are seated next to each other they have a better ride due in large part thanks to how close together they sit. There's plenty of space under these chairs so that moms can store food, toys, diapers, etc.
Tips on Buying a Twin Stroller
Fulfilling the needs
The priority for parents is to find a twin stroller that will make their lives easier. Wide and comfortable seating with a smooth ride is the primary requirement, as well as an effortless push-bar design so mom can focus on getting where she needs to go instead of having her arms pulled up by pushing it along behind them!
Width
Side by side strollers are a great option for many families, but one thing to consider is whether or not the double will fit in various doorways and through tight spaces. When looking for your perfect purchase, measure all of the different doors you would need to go through on an average day.
Trunk capacity
You know that twins can be a handful, which is why you need to make sure your stroller fits in the trunk of your car. Measure both before purchasing and lookup folded dimensions on Google for an extra sanity check.
---
Exclusive List Of Best Side-By-Side Twin Strollers
After looking through the different options, I found these to be some of the best twin strollers. These are all rated well and have a lot of features that you would need in a routine walk or taking your child on walks with friends. The variety available should make finding one perfect for what you're needing easy.
JOOVY Twin Groove Ultralight Stroller
Joovy is for parents who are serious about exploring, without clunking. Unlike other high end models where kids literally sleep in their prams on long excursions, these two seats happily sit flat enough to make napping.
With a lightweight aluminum frame, the Joovy Twin Groove Ultralight is perfect for parents who are all about quick trips to the store or running around town. It folds up easily and comes with a carrying strap that attaches it right to your back so you always have the canopy overhead when you need it most, leaving both hands free to collect what's on your list.
A double-wide seat accommodates lots of legroom so toddlers can kick their feet out easily, and there's even storage underneath each seat for easy access. The cup holders keep bottles at an accessible height while we get them strapped in securely; talk about convenience! And don't forget: this stroller is approved by JPMA and ASTM International safety.
Don't Neglect
Its recline mechanism is a bit tedious and you can't access its storage if the seat is fully reclined. If your kids are taller then this thing will not help you. However, this stroller has many useful benefits that make up for these few flaws.
Technical Details
The manufacturer provides these details.
| | |
| --- | --- |
| Item Weight | 26 pounds |
| Product Dimensions | 32.2 x 30 x 42.8 inches |
| Folded Dimensions | 41.75 x 22 x 16 (L W H) |
| Maximum weight recommendation | 100 Pounds |
---
Mountain Nano Duo Buggy
Perfect for parents on the go who want a baby carriage that can work from day one with their twin infants. The lightweight trailer is super easy to maneuver and compact enough to fold up into a small carry-on size package; so it's great if you're going on vacation or just locally, too.
The compact and lightweight design makes it super easy to transport. It holds two kids comfortably for those long trips or quick strolls around the mall.
The large storage basket gives moms plenty of space for their daily needs as well as any supplies they carry along with them on outings. You also won't have to worry about passengers being uncomfortable either; its padded seats are plush and comfy!
Ideal for twins, the Mountain Buggy Nano Duo is not only lightweight but also compact. It incorporates a sleek design with all of the necessary features any parent will need when on the go.
The four wheels allow you to travel up curbs without fuss and navigate city streets with ease. Adjustable seat belts keep everyone comfortable and safe. The front bumper bar provides additional security without blocking the view from moms or dads.
Don't Neglect
This stroller has low ground clearance. Some parents say that it's hard to fold, and would be a difficult task for grandparents. Overall, Nano Duo Buggy is the best stroller in its price range.
Technical Details
The manufacturer provides these details.
| | |
| --- | --- |
| Item Weight | 20 pounds |
| Product Dimensions | 11 x 28.7 x 33 inches |
| Maximum weight recommendation | 33 Pounds |
---
Twin Zoe Stroller
The perfect stroller for parents on the go, this lightweight product is easy to assemble and can be folded up easily. The large canopy protects children from sunburns or rain when they're out getting errands done with their mother. This sleek design makes it easier to maneuver around tight spaces and stores in smaller areas too.
This compact stroller comes complete with a fantastically reclining seat that's ideal for naps while you are running your kids all over town. It also has peek-a-boo windows for those moments where mommy needs visibility into their world without having them awake.
The fabric is made from a durable material, capable of withstanding wear and tear. The bottom storage space on this stroller will keep any fittable item you want to bring along safely during transit while still giving an enjoyable ride for both parent and child alike!
This pack-and-play stroller provides parents with two convenient pockets they can use to store small necessities like keys or wallets. These nice features are also accompanied by a smooth roll that leaves both the baby's backside and yours happy after every trip out exploring.
Don't Neglect
Some parents complain about its wheels being smaller in size and recommend this stroller for pavement. Parent cup holder placement is not suitable to pass through tight places. However, Zoe is a good stroller that is suitable for your day to day strolling.
Technical Details
The manufacturer provides these details.
| | |
| --- | --- |
| Item Weight | 19 pounds |
| Product Dimensions | 33 x 29 x 40.2 inches |
| Maximum weight recommendation | 50 Pounds |
---
Baby Joy Twin Umbrella Stroller
You've probably heard of the difficulties parents face when trying to manage two children at once. Subsequently, you understand what it means to have your hands full. The Baby Joy Double Light-Weight Stroller is here so that your family can maintain a lifestyle of togetherness.
The stroller's seats provide ample space for both children at once. This means less stress on those who take care of the kids too! With this product, you pay attention to your little ones without exhausting all of your energy.
Although it's wide, it provides smooth maneuverability which makes it easy to tackle during any outdoor activity, whether going around neighborhoods or shopping in crowded places.
Baby Joy folds down easily and becomes more compact after folding. Easily fits in your car when it's closed. Its seats are comfortable enough for babies to take a nap and they recline just a little bit.
The Double Rider has two seats that have mesh storage bags behind them. This is perfect for storing all your kid's travel sundries inside the bags, while there are also canopies to provide sufficient sun protection.
Don't Neglect
This stroller doesn't suit tall parents, moreover its seats don't fully recline. Overall, this stroller is perfect for short trips and day to day strolling.
Technical Details
The manufacturer provides these details.
| | |
| --- | --- |
| Item Weight | 18 pounds |
| Product Dimensions | 31 x 28.5 x 37 inches |
| Maximum weight recommendation | 70 Pounds |
---
Dream On Me Volgo Twin Stroller
The Volgo Twin Umbrella Stroller is a perfect choice. It's lightweight and compact, so it's easy to carry and maneuver. And it has plenty of storage space for all your baby gear. Plus, this stroller can be used as a single or double! You won't find another budget-friendly twin umbrella stroller like this one on the market today.
Volgo has a three handle design which makes it unique from other brands. Its seats are suitable for children 6 months and up and the weight limit is 40lbs. Five point safety harnesses keep both kids secure inside the stroller.
Front wheels have 360° rotatable rolling enabling the stroller for an easy push. Moreover you can lock the front wheels in a place to have a straight drive.
Don't Neglect
Some parents complained that it has narrow seats, so it may not fit for big kids. However, Volgo is a wonderful stroller, and you'll like it if you're in search of a beneficial low-cost twin stroller.
Technical Details
The manufacturer provides these details.
| | |
| --- | --- |
| Item Weight | 24 pounds |
| Product Dimensions | 30 x 40 x 29 inches |
| Maximum weight recommendation | 80 Pounds |
---
Evenflo Minno Twin Double Stroller
Evenflo's Minno Twin stroller is an economical and convenient choice for parents of twins. It has a compact design with the convenience of being lightweight, so it won't take up much space in your trunk or garage.
Minno has flexible functionality. The adjustable seat reclines at multiple angles to allow maximum comfort. In addition, it is equipped with an independent footrest for children sitting inside of their seats in order to give them more luxury as well.
You'll love how easy it is to get around town with the Minno Twin. Your kids will have plenty of legroom thanks to the independent footrests. You can even adjust their seats at multiple angles for maximum comfort.
This stroller also folds down quickly and easily so that you don't have to worry about storage space – just grab it out of your trunk or garage when you need it next time.
Minno is perfect for parents who need to navigate through crowds without any hassle. Minno fits in doorways and aisles, so you don't have to worry about bumping into other people or things on your way.
Don't Neglect
It's a bit heavy, but not too heavy. Moreover, its seats are reclined with belts, which become difficult to adjust when kids are sitting inside. It's easy to maneuver, easy to handle, and easy to fold. It feels sturdy and doesn't look cheap in quality.
Technical Details
The manufacturer provides these details.
| | |
| --- | --- |
| Item Weight | 25.4 pounds |
| Product Dimensions | 25 x 26.8 x 41.5 inches |
| Maximum weight recommendation | 90 Pounds |
---
Let's Culminate
So now that you know the list of the best side-by-side double strollers, I hope this blog post has helped you find the perfect match for your twins. If not, let me know and I can help.
I have expertise in finding what consumers want while also staying within their budget and needs. Strollers buddy is to serve all parents looking for a better way to navigate life with kids. Thank you.
Happy parent