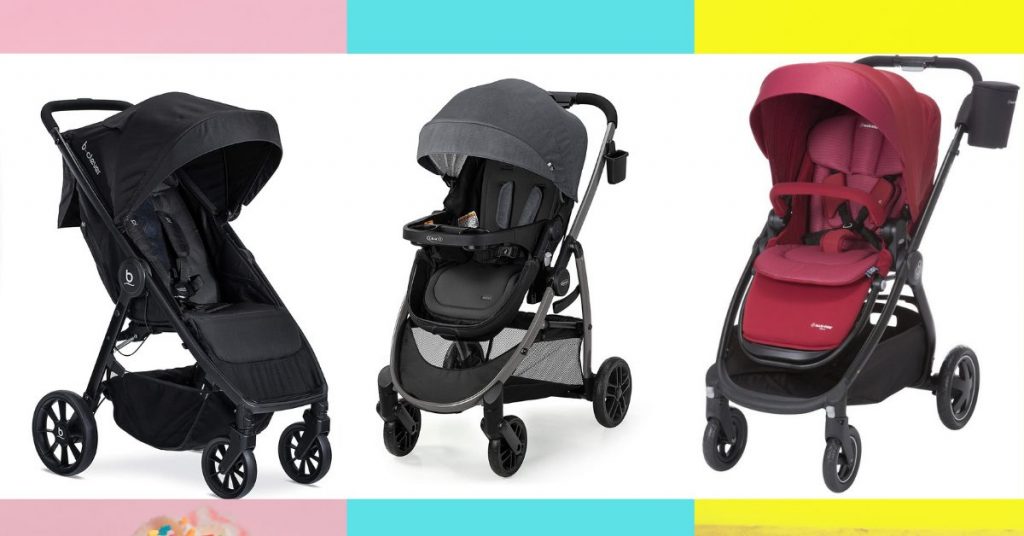 If you are looking for a fully reclining seat stroller for your newborn, then you are on the right place. We will be reviewing three of the best fully reclining strollers on the market today, and give an overview of their features and specs to help parents make the right decision.
The best alternative to a bassinet is a stroller with a flat seat. Any stroller with an inclining seat can be used as a bassinet for the first three months and it'll eventually become a regular stroller for your little one's comfort.
I've listed below the best infant strollers that fully recline. An in-depth review of every stroller will help you find the best fit for your budget and lifestyle.
---
---
Stroller Types for Newborns
You can't use a regular stroller for newborns because they can't sit in the stroller seat. Market offers three strolling options for newborns.
1. Travel System
Travel systems are equipped with all the bells and whistles. These strollers feature infant car seats that directly fit into the frame with the help of adapters, making your life easier with their portability. An infant capsule is the best fit for travel.
These are usually expensive baby carriers but you can get one on budget by having a travel system ready stroller which accepts multiple infant capsules.
2. Bassinet Stroller
Bassinet strollers like travel systems accept a bassinet which directly snips into the frame to accommodate the newborn. The bassinet helps in little strolling activities and in house movements but doesn't fit for travel.
3. Fully Reclining Seat
The market also provides a versatile stroller for infants which is informally known as a fully reclining stroller, featuring in our article. This stroller has the option to completely lay flat the seat and converts into a bassinet stroller to accommodate a newborn. 
Tips On Choosing Stroller For Newborn
Below you'll get the key points to consider before choosing a stroller for infants.
Safety
Safety is the must. A newborn baby needs to lay down on her/his back over a flat surface. So carefully select the stroller that would be able to provide a flat surface.
Comfort
How comfortable would the baby be inside? Seat cushioning and soft padding are important to consider.
Harness straps shouldn't be itching or too tight to operate. These straps should have an easy operable mechanism to fasten and open.
Canopy needs your attention. Look for its shade and coverage. How much it would cover the baby in the stroller from the sun.
Rolling
Soft and easy rolling of the stroller is important to consider. A stroller with a hard push wouldn't be able to provide a comfy ride.
Top 3 Strollers For Infants With Fully Reclining Seat
Have a look at the list of best available strollers.
Maxi-Cosi Adorra
Convenient Specs
A nice stroller that gives several valuable features in one purchase. You can incline its seat to convert it into the bassinet. Moreover, the seat has easy sniping and you can adjust it in the front or parent-facing position quickly.
Travel System Ready
It has a built-in adapter that allows you to attach any compatible car seat(sold separately). It gives the second option for newborn strolling. It gives the height-adjustable handlebar that you can easily fix at your comfort level. It gives the height adjustment range from 99cm to 113cm.
Seat Swapping
Adorra gives convenient seat placement into the frame with simple click buttons. You can attach it to forward or towards parents according to your ease. The seat position swapping mechanism is really easy.
Spacious Seat
Its seat has sufficient height and width and provides spacious space for little babies. It's 32.5cm wide and provides cozy seating with soft padding and nice fabric. The seatback is 44cm in height which makes it a comfortable stroller.
Use For Infant
Its seat can be reclined in three positions. Fully recline allows you to convert it into the carriage mode for the newborn. The seat is equipped with a five-point soft harness that is easy to clip and unclip.
Bumper Bar
A bumper bar on the seat is very easy to remove to get the baby in the seat. The bar has a nice cover for babies to hold on to. It has a gate opening and you can open it with one hand for your child. It gives a safe ride for the toddler.
Hood
Its nice hood is wide and protects the baby from the sun. You can easily open and close the hood. Moreover, a peek window is also given at the top. That's a great spec for keeping an eye on the baby.
One-Handed Fold
Adorra gives a compact one-handed fold to make your travel easy. You can quickly fold it with the seat. It's a life easing feature that you wouldn't have to remove the seat to fold it. Its folding clips keep the folded stroller together and it can self stand after folding.
Don't Ignore
Its brake lever is placed at very awkward position which disturbs during walks and your foot can hit it. Moreover, plastic wheels aren't able to provide super comfy ride. Overall, Adorra is a nice stroller and wins the trust of many parents.
User Reviews
This stroller has sufficient reviews to help you make a fruitful decision for buying it or not. Till date;
30 customers quoted it as 'great stroller' in their reviews.
4 customers "highly recommend" this stroller.
3 customers are "happy with this purchase".
5 Star
These happy customers gave positive reviews for this stroller. They allotted 5 stars to this stroller for;
Easy to put together.
Height adjustable handlebar.
Smooth maneuverability.
Big canopy.
Large basket.
Seat recline.
4 Star
One happy customer here liked this stroller but she argued that it's larger than her expected size. Moreover, she found no snack tray.
A user quoted is a convenient and beautiful stroller. But she suggested some improvements like the tires should be of better quality. She has few problems with its locking/braking mechanism.
A buyer gave a detailed review here. She gave it 4 stars for its features and curtailed one star over a few issues like the brake position is not suitable and her feet hit it during the walk. She is also facing some problems with its recline, folding, and canopy.
A user with a four-star rating reviewed that this stroller demands her exercise to fold. However, unfolding is easy for her. She was not satisfied by the build quality of some parts.
3 Star
Here a customer is not satisfied with the straps. She is worried that these straps might not be comfortable for the baby. Moreover, she was also facing a problem with the brake lever where her feet hit during walks.
Here most customers are commonly facing the maneuverability issue.
2 Star
Most reviews here describe the common issue of hard maneuverability.
1 Star
A user here complained that the stroller fabric got mold.
Again, the maneuverability problem is common here.
Note: A customer in the 5-star section has reviewed it and highlighted the maneuverability issue. She said that the front wheels have two buttons that should be pulled up to smoothly move this stroller.
Britax B-Clever
Feature-Full
Here comes another beautiful option for your baby. Britax B- Clever is a lightweight stroller that allows you to fully lay down its seat for a newborn. This stroller has a feature-full package and gives a nice infant stroller. It has an aluminum frame that makes it lighter in weight and easier to move the stroller.
Perfect For Summer
A nice stroller for summer days. Its breathable fabric, mesh backrest, and side vents give proper airflow for the baby inside the seat to keep the baby cool. Its cool flow features make it a comfortable summer stroller.
Travel System Ready
This stroller has a built-in infant car seat adapter which gives it the ability to be travel system ready. You can attach the Britax Infant car seat(sold separately). So you'll have a nice lightweight travel system that you can use for multipurpose needs. It's an additional strolling option for the newborn.
Lay Flat
You can incline the seat flat for an infant to set in or for a toddler to take a nap. Moreover, the canopy covers a sufficient portion of the seat and keeps the baby protected from the sun. Hood has a peek window for parents to keep watch on the baby.
Comfortable
The seat has side ducts to provide baby proper airflow. The canopy provides a further breathing spot with its ventilation window. Moreover, it provides quick and easy maneuverability with its all-wheel suspension that makes it a parent-friendly comfortable stroller.
Storage
A deep storage basket underneath provides sufficient space for your groceries. Britax is a stroller with quick mobility and huge storage that will be an exact match to your needs if you are planning to use it for shopping tours.
Fold
It provides the one-handed and quick fold that helps you to make your travel easy. It folds down compactly and doesn't require huge space in the trunk.
Don't Ignore
It's a wonderful stroller and gives an enjoyable strolling partner. But remember that it is not suitable for winter. Moreover, you'll not get any accessory with the stroller and its canopy doesn't cover well in the fully reclined position. Overall Britax B-Clever is a good stroller and gives the best value for the money.
User Reviews
Britax B-Clever has a nice rating score. Reviews summary of customers on Amazon is given below.
5 Star
The satisfied customers are happy with its features. Customers who dropped a review and gave it 5 stars on Amazon are satisfied with its;
Smooth ride,
Easy to put together ability,
Nice handlebar,
Easy to fold,
Easy assembly,
Storage space.
4 Star
Customers who gave it four stars are also happy with it but they have little issues with the stroller.
A reviewer is not satisfied with its canopy.
A customer is not happy with its folding size.
A person warned that your finger could be pinched while folding.
3 Star
It doesn't have any review in these ratings to date.
2 Star
A consumer gave a review that it's not fit for tall kids, moreover its folding and unfolding demands effort.
A buyer's stroller's side broke during the first month of use.
1 Star
To date, three reviews are found in this section. These all buyers are complaining about its tricky mechanism of folding and unfolding.
Graco Modes Pramette
3 In 1
Its versatility offers you three strollers in the box of one. It's a toddler stroller with its regular seat. The seat is bassinet convertible and becomes an infant stroller. Above all this, it also allows the infant car seat and you can attach any Graco car seat to its frame.
Bassinet Mode
Its bassinet mode enables you to lay down its seat and convert it into the bassinet for an infant. The bassinet mode is helpful for sidewalks and outings. You can move around during little walks with the baby safely placed inside the bassinet.
Travel System ready
This stroller accepts all Graco infant capsules. You can quickly convert it into a travel system by removing its regular seat to clip into an infant capsule. That's a great luxury and gives you a money-saving deal. Infant car seats are sold separately and you don't need an adapter for them.
Rear & Forward Facing
The regular seat of this stroller has both rear and forward-facing attachments. This feature gives comfort for parents to adjust the seat conveniently to make their baby happy. The rear-facing mode also helps when you'll use it in bassinet mode.
Five Point Harness
Its seat is equipped with a five-point harness which makes it a safe stroller for a toddler. A five-point harness has an easy mechanism to operate and provides a secure ride.
Easy To Maneuver
This stroller has bigger rear wheels that contribute a lot to provide a smooth ride. A good stroller for pavement and maneuvers easily with less effort. Overall it's sturdy and you can quickly move around with it in urban areas.
Accessories
You'll get a parent cup and cell phone holder with the stroller. A child snack tray is also given with the seat. Tray includes a cup holder. A nice package for both parents and babies.
Storage
This stroller gives a big storage basket with ample storage space that you can use for diaper bags or grocery items or anything else that can fit in. The basket is made of stretchable material that you can fill up with some extras.
Don't Ignore
Graco Pramette is a nice and budget-friendly stroller. But it's not for you if your kid is taller than average height. The bassinet mode needs some exercise to get on and you can't fold it in this mode.
User Reviews
Graco Pramette has an 800+ global rating on Amazon which is remarkable. Have a look over the review summary from the customers who used this stroller.
5 Star
These are the happy customers and gave 5 stars for the following specs;
Easy to put together.
Easy to use & fold.
Storage basket.
Easy Maneuverability.
Value for money
4 Star
These consumers have few complaints. Have a look at what they said;
A user is complaining that it couldn't self stand when folded. Moreover, she said that it couldn't be folded in bassinet mode.
Another buyer is asking that its unfolding is difficult.
A user gave some details and criticized its braking mechanism, tricky reclining, and effort taking folding.
A user said that it is a bit bigger in size.
3 Star
A consumer used it in bassinet mode and complained that the bassinet starts to wobble.
A customer has a taller child and this stroller isn't fit for her baby.
Another user said that her stroller wheels make noise.
2 Star
An angry customer is unhappy with its folding in bassinet mode. She'd to remove the bassinet before folding and it couldn't stand when folded. Moreover, its unfolding is not an easy task for her.
A user said that its bassinet mode needs a serious workout to make.
1 Star
A customer finds assembling much difficult and afraid of its sharp edges.
A buyer isn't satisfied with its canopy which is unable to remain in a position.
Let's Conclude
This was the entire list of best available strollers for infants that you can use for by laying seat completely flat and later on when baby grows you can use it with its regular seat. All the strollers are the best in their respective fields. I've given the details about every stroller with pros and cons.
Moreover, user reviews of every stroller will definitely help you make the right purchase. Reviews are collected from amazon written by real-time users and a summarised form of these reviews of each respective product is given to refining your choice map.
Hope that this article has helped you in choosing the right stroller.
Happy Strolling!