Purchasing your first stroller is a tough job. It requires a lot of effort and time in selecting the right stroller that fits your needs. No one wants to waste her/his hard-earned money on buying a wrong product. A variety of different types of strollers confuse people when they search for the best stroller online. Most of the time, new parents get stuck on deciding which stroller is best suitable for their baby. They can't determine what type of stroller is right for them.
This comprehensive guide on baby strollers will give knowledge-full details about various types of baby strollers, their features, and their usability. With an explanation about the utility of different strollers, you'll be able to have a direction towards a final baby pram that you eventually need. 
Usually, parents start purchasing baby stuff when they are expecting a baby. A stroller is the must-have baby gear. It's a life easing gadget to carry a baby anywhere, any time, with comfort. Moreover, babies feel much joy in riding the stroller. Let's dive into the article.
Key Points Before Buying A Baby Stroller
The online search results for a baby stroller can easily mislead you when looking for the best stroller on any search engine. A range of different strollers with fancy design allure customers. Chances are high to get lost in the wide range of these modern gadgets. Strollers have a lot of unique characteristics and specific uses. From this wide array of strollers, hardly one or two strollers can fit into your lifestyle.
Especially for first-time parents, it's a tough job to choose the exact match to their needs. First, they get surprised to know how costly the strollers are. The various types of strollers create more fuss in mind, and they get so confused to decide which stroller is best suitable for their kids. 
Don't worry if you're stuck, I'll explain all the essential points that are needed to consider before buying a stroller. A detailed elaboration of primary aspects will help you choose the best suitable stroller for your little one. Let's start with the key points and their implications.
How Much Do You Want To Spend?
First of all, finalize your budget. A baby stroller is a expensive item. Different types of models are available on price tags varying from $30 to $1000 plus. The more you go for luxury, the more you'll have to pay. For low-cost strollers, you will have to sacrifice some features. On the other hand, high-end strollers give all specs and features in just one purchase. 
However, it doesn't mean that the low-cost strollers are not good enough to accommodate your strolling needs. Several low-cost strollers are available on the market, that are providing quality and comfort at an economical price. So it's on you how much you want to spend on the stroller.
It depends on the specific choice and lifestyle of people. Parents often go for luxury and buy expensive strollers. Somehow, they think low-cost strollers give substandard quality. But, eventually, there are countless positive reviews on budget strollers. Parents trust those brands and love the quality and comfort they are getting at a lower price. So you can buy any best stroller at an economical price if you don't want to spend more on a stroller. 
Sort Out Your Specific Need
You'll need one or two strollers. Think about your needs and make the right choice based on your needs.
Are you a first-time parent and need a stroller for your newborn baby?

Do you want a double stroller that is capable of carrying a toddler and a newborn?

Are you a runner and want to jog with the stroller?

Do you want a stroller for twins?
These are the questions that will explain your specific need for the stroller. It's essential to sort out what you need, as it will help in buying the right stroller for your kids. You'll get answers to these questions below under the 'Which Stroller Is Right For Me?' tag.
Your Residential Area
Your residential area is also significant to consider when purchasing a stroller. What is the condition of pathways and roads where you're going to use the stroller? For gravel roads and uneven tracks, you'll need an all-terrain stroller. If you've to use the stroller on pavements, any suitable lightweight or regular stroller can fulfill your needs.
Stroller Usage 
Different people have different uses of the stroller. A regular stroller is enough for routine outings. For jogging, you'll have to buy a dedicated jogger stroller. To make travel easy, you'll need a different stroller. You'll get a detailed explanation about specific uses of different strollers below under the 'Which Stroller Is Right For Me?' tag.
Folding And Storage Of Stroller
How big is the stroller when folded? How much space does the folded stroller needs to store in the trunk or anywhere in the house? Before finalizing the stroller, you should know the answers to these questions. If you're going for a bulky stroller that your car trunk doesn't store, it would be a problematic thing for your little journeys.
Types Of Baby Strollers
Innovation has transformed baby products. Today the market provides various types of modern strollers to serve the different strolling needs. From regular strolling to traveling and from walks to jogging, you can choose any kind of stroller compatible with your specific requirement. In the following section, you'll find a detailed explanation of the main types of baby strollers.
Regular Strollers
Regular strollers come with abundant features. Their specific design helps to meet the basic strolling needs of little walks and shopping tours. These strollers provide comfortable seating and essential safety features. Huge baskets and side pockets are other facilities to offer ease of grocery shopping for parents. 
These general-purpose strollers can transport toddlers of different ages. They usually are heavy. Babies in their different toddler stages can be easily accommodated with regular strollers. Infant car seat and bassinet compatibility are also given in most regular strollers.
Modular Strollers
Modular strollers are the most advanced strollers that provide a lot of options. They offer compelling features with durability. You can use these strollers from birth to onward. So if you buy a modular stroller, you will not need to buy any other stroller when the baby gets older as these innovative strollers grow with the baby and meet all strolling needs.
Modular strollers have three different categories. Travel systems, convertible strollers, and sit and stand strollers.
Travel Systems
A complete set of featureful package is provided with a travel system. Just one travel system is enough for all the strolling needs from birth to different toddler stages. Its sturdy frame allows easy snapping of the car seat or bassinet into the chassis. It can be used as a regular stroller when the baby can sit with proper neck control.
Some brands give a full-fledged deal of infant capsule, a bassinet, and a stroller seat with other useful accessories. But these fully loaded strollers are expensive. You can make a money-saving deal by purchasing a travel system ready stroller. These strollers allow selected infant car seats to fit in.
A travel system has more weight than other types of strollers as it has to carry multiple things like a car seat, bassinet, or a regular seat based on specific usage. That's why the travel systems are made sturdy and heavy. Check the exclusive guide on buying a travel system if you want to have a travel system
Convertible Strollers
Convertible strollers are also called single to double convertible strollers. This type of stroller comes with versatile specs. You can stroll with two kids on a single stroller. This type of stroller grows with your growing family. People often buy convertible strollers for their first baby, and when they have their second child, these strollers serve them well by converting from single to double.
This type of stroller allows an infant capsule and second seat to fit in the frame. Infant capsules give easy mobility for the newborn. At the same time, you can attach the second seat for the second child. This arrangement will provide a tandem kind of seating.
Sit & Stand Stroller
Sit and stand strollers give a platform behind the seat for toddlers to stand on. Some strollers also provide a bench to sit along with the platform. This option allows the toddler to sit or stand. Toddlers can even sit on the regular seat, which is provided behind the front seat.
Lightweight/Umbrella Strollers
Lightweight or umbrella strollers are also known as travel strollers. These are specifically designed for little strolling needs. Usually, a fully loaded stroller is much heavier and bulkier in size, so their maneuverability becomes challenging. Lightweight strollers are made to fulfill the travel needs of parents.
In 2012 BabyZen Yoyo launched the first stroller capable of folding down small enough to count as carry-on luggage on airplanes. Since then, many brands have followed suit in an attempt to compete in this useful niche. The main objective was to make an ultra-light, ultra-compact stroller with an emphasis on folding and carrying strollers easily.
Many brands provide these handy and portable strollers to offer a stroller with lesser weight and compact size. Moreover, shoulder straps or handles or a dedicated travel bag allow the user to carry a folded stroller without any hassle.
These strollers roll-on very quickly and provide a smooth, comfortable ride on pavements. This type of strollers helps in air travel and picnics. These strollers have a very compact fold, which makes them easy to store.
Jogging Strollers
Regular strollers are not suitable for running as they are made for little walks. If you want to jog with the stroller, then a jogging stroller is the best option. These are also known as all-terrain and off-road strollers. Because they are capable of smoothly rolling on any surface due to their bigger wheels, mostly they have air-filled bigger tires. However, some brands provide foam filled tires also. 
These are three-wheel strollers specifically made for jogging. They come in two variants, one with a fixed front wheel and the other with a swivel front wheel. The swivel wheel is given with a lock that makes it usable for jogging and routine outings. One fantastic thing about the swivel variant is most of these strollers allow an infant car seat to fit in. That's a great option in the shape of a jogging stroller that you can use from birth.
A good jogging stroller provides safety features like hand brakes, a tether strap, and a five-point harness. Moreover, canopies give sufficient protection from sunlight. They give a very soft ride because of their large wheels and sound suspension system. You can buy a jogging stroller for everyday use or a jogger in the budget range according to your specific need and the amount that you want to spend.
Please remember the safety advice about the recommended baby age for jogging strollers. Child safety experts strongly recommend that the baby's age be at least six months to go on a jog in the stroller. Please never ignore this recommendation as a baby of age less than six months don't have a mature spine development. It would be harmful to the baby if you'll not follow this recommendation. Read the complete guide on buying a jogging stroller here.
Double Strollers
Are you parents of twins? Or you have two kids of different ages, a toddler and a newborn. Then double strollers are there to cater to your strolling needs. These strollers give the ease of strolling with two kids at the same time. These are sturdy, bulky, and heavy strollers.
Double strollers come in two variants; one is side by side double and the other in tandem.
Side-by-Side Double Strollers
These double strollers give two side by side seats with equal perks and facilities. Two comfortable seats in one stroller make life easy by providing parents two strollers in one's chassis. You can buy one of any type in a regular double, an umbrella double, or a jogger double based on your specific need.
Side by side double stroller has wider footprints due to their width. They have more weight than a single stroller. These strollers give ample storage space and other useful features.
Tandem Double
These double strollers give tandem style seating. Tandem strollers have the width of a single stroller but longer than any regular stroller. This longer length makes their maneuvering a bit difficult. Tandems are available with a lot of variation in specs and features. These types of strollers are best suitable for two children of different ages.
Tandems require less space to move on because they have compact footprints. Being compact in width makes it easy to pass through tight spaces. However, they are bulky and have more weight than any regular stroller.
Essential Features To Look For In A Stroller
After reading the types of baby strollers, you have a direction towards the right stroller that matches your needs. Now read the detailed explanation of the essential characteristics and features to look into a stroller.
What Is For Kids?
Observe all specs and features of the stroller you are going to buy. What is that stroller offering for the kids? For kids, does the stroller offers footrest, comfortable seating, seat belts, and cup holders? Let's start with the safety features.
Safety Features
A five-point harness is essential for a safe ride to have secure seating. Traditional seat belts create much disturbance and take time to operate. The five-point harness has a straightforward press button operable mechanism.
Brakes of two types come with strollers. One is parking brakes, and the second is hand brakes. Parking brakes assist in stopping the self-movement of the stroller when parked. The hand brake helps to control the speed of the stroller. The hand brake feature is significant if you live in a hilly area or want a stroller for running.
Tether Strap comes with strollers for extra safety and to give better control. You can wear this strap on your wrist, which helps to hold the stroller.
Newborn Carrier
If you are buying a stroller for a newborn, you must carefully observe the stroller specs and features. Does your selected stroller have facilities for newborn children? Below you'll get an insight into available options for newborn babies.
Travel System is the ready-made newborn carrier that comes with an infant capsule to carry a newborn safely. If you've frequent road trips in your schedule, then you'll need a travel system for your newborn. Alternatively you can buy a travel system ready stroller which allows you to clip into any compatible car seat with help of an adapter.
Bassinet strollers are also used for newborns. You'll need the bassinet stroller for your baby to go on regular walks and outings. The bassinet is a better newborn carrier than an infant car seat. You can use it for an extended period in a day. However, for car seats, it's not recommended for babies to stay more than two hours inside the capsule in a day.
Fully reclining stroller is another option that you can use for an infant. This types of stroller adopts bassinet mode by reclining fully its seat and accommodates a newborn.
Comfort Features
A reclining seat is a comfort feature that helps the baby to nap and rest. This features is much usable when you are out with the baby.
The footrest below the seat gives an area for the baby's legs to sit comfortably. Does your selected stroller have a footrest? Sitting with legs hanging on the seat is uncomfortable.
Canopy is an excellent feature to provide a sunshade for the kid. Some brands offer UV protection sun canopies. You should look for how large the canopy is and how much sunlight protection does it give?
Little accessories like a child tray, cup holders, and belly bar are present in your selected stroller or not? However, these specs are compromisable. You can consider the stroller if your selected stroller does not give these options but fulfill the other important specs.
What Is For Parents?
Baby can't drive the stroller. The little kid is a passenger, and you are the driver. As a driver, you have to provide a comfortable ride to make your kid happy. For a comfortable ride, you need a stroller that offers such features that will help you to have a soft ride. Let's take a peek into the parent's friendly specs.
Maneuverability
How easy is the stroller to maneuver? It's essential to look at this feature. It will be very uncomfortable if the stroller is hard to push. Maneuverability depends on various variables. Let's talk about this topic.
Jogging strollers need to give super soft and easy maneuverability. When you plan to buy a jogging stroller, check how bigger the wheels are? Jogging strollers come with air-filled tires. Tires tread, size & diameter, and air pressure contribute vital roles to provide super smooth maneuverability. That's why jogging strollers are also known as all-terrain strollers, as they work great on bumps and uneven roads.
Regular strollers come with foam-filled or rubber tires that work great but could not perform better than air-filled tires. However, you are not supposed to go on jogging with a regular stroller. For usual walks, foam-filled tires are enough for better rolling.
Umbrella strollers are lightweight, and they are made to help parents to move around during travels. They come with hard plastic little wheels. With small wheels, they are the most suitable strollers for airports, hospitals, and pavements. You can't expect super smooth maneuverability from these strollers.
Adjustable Handles
Another significant feature to consider if the parents have different heights. This feature helps parents adjust the handlebar according to their height to stroll around with the baby easily. Two types of handle adjustments available.
Telescopic adjustment allows you to pull out the handlebar up. The higher you adjust the handlebar, the more space you'll get to push the stroller. You'll get enough kick room, and strolling will be made comfortable, especially if you are tall. Enough kick room will give safety for your feet not to hit the stroller during walks.
Pivoting adjustment works in a different way than telescopic adjustment does. With push-able buttons on both sides of the handlebar allow adjusting the height. This adjustment doesn't provide enough kick room as the telescopic adjustment gives.
Suspension
Another great feature to provide comfort rides for babies and easy push for parents. Looking for suspension is essential when you plan to buy a jogging stroller. While running, the baby has to bear many ups and downs. So to keep the baby safe from these bumps, the suspension provides a sound shock absorber system.
The partial suspension comes with regular strollers. However, no need to consider the suspension when you want a stroller for regular walks or you are going to buy a lightweight/umbrella stroller. Moreover, the suspension is not needed when you're going to use the stroller on straight roads and pathways.
Storage Space
Storage space is essential if you're going to buy a regular stroller. This space is helpful during shopping tours. Observe your selected stroller that;
How much storage space is it giving?

How many pockets and zippers are available?

How big is the storage basket?
Moreover, parent consoles and little compartments for cell phones are also provided in most strollers. Don't expect massive storage from a jogging or travel stroller as they are made to serve specific jogging and travel purposes.
Wheels & Tires
How much large are the wheels of the stroller? Does the stroller have a three-wheel or four-wheel base? Moreover, You should look at the tires, are there foam tires or air-filled tires? Wheels and tires are important to consider before buying a stroller.
Folding
Stroller folding is a significant feature to observe. See;
How much space does it cover when folded?

How easy is the folding mechanism it has?

Does it self stand after folding?

How compact does it fold?
For a bulkier stroller like a regular travel system or a jogger, you can't think of a compact fold. Observe your boot space and house. If you are going to buy such a stroller, they will require ample space in the car trunk and the home. Double strollers also have bulky folds and demand enormous space.
Modular strollers also fold wide and heavy. But the nice thing about these strollers is that you can detach the main parts and pack the pieces separately. But remember that it will be a time-consuming job.
Travel strollers fold very small. These super lightweight strollers have a compact fold, and you can easily store them anywhere. Some travel strollers have such a super compact fold that you can take them as a hand carry on a plane. So these strollers are the best for traveling. Umbrella strollers also have a compact fold, but they remain a little bit longer.
Which Stroller Is Right For You?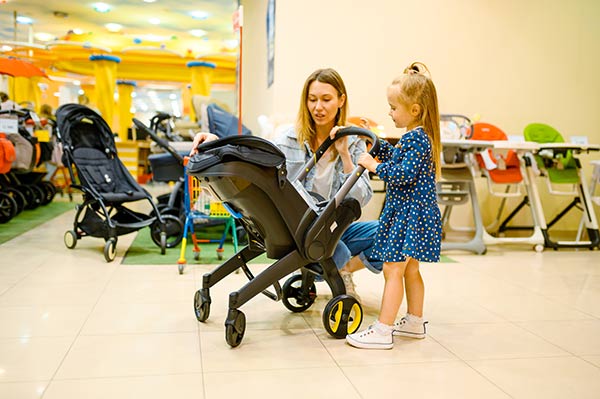 Are you still unable to decide what type of stroller you need? Don't worry, in the following section, I will explain basic queries to guide you in selecting the best suitable stroller. This category-wise explanation will direct you to choose the right stroller which you need for your baby.
Have you read the portion 'Sort Out Your Specific Need' above in this article, where I've elaborated how your need is the answer to choosing the right stroller. By keeping in mind the types of strollers explained above, you have now developed a choice map for the best need match stroller.
However, if you are still in ambiguity, go through the below portion. A detailed elaboration of suitable strollers for newborns, toddlers, running, twins, and travel will guide you in choosing the right stroller.
Stroller For Newborn
Newborn babies can't sit and don't have neck support. So the best suitable stroller for a newborn should be able to transport the baby by providing a surface to lay down. It is possible if the stroller supports a car seat or a bassinet. The market gives three options in the newborn section.
Travel System
If you want luxury, then buy a travel system. A travel system is the best stroller that serves the baby from birth to different toddler stages until the child outgrows the stroller. Moreover, you can easily use the travel system for your next baby as well. A sound travel system will be the best companion for years.
If you don't want to spend more, then go for a travel system ready stroller. An excellent traditional stroller with a travel system ready option can also serve you well at a lower price than a fully loaded, costly travel system.
Bassinet Stroller
A great option for newborn children is in the shape of bassinet strollers. These strollers give a complete package that includes a bassinet and a regular stroller seat. A good bassinet stroller also offers car seat compatibility. So it becomes a great deal to cater to all your strolling needs. The bassinet is a safer baby carrier than the infant car seat.
Stroller For Toddler
Suppose you want to buy a stroller for a toddler. First of all, evaluate your baby's weight and height. If your kid is heavy, then a different stroller you will have to buy. For taller kids, stroller brands provide a diverse range. If your toddler has an average weight and height, then you can buy any regular or umbrella stroller.
Stroller For Running
If you want to jog with the stroller, then you have to buy a dedicated jogging stroller. Traditional strollers are not made for this purpose. You will have to buy a jogging stroller specifically designed to bear the speed and weight. Jogging strollers have an oversized three-wheel frame. They are well prepared to help you in running safely with your kid in the stroller. You can also buy a jogging stroller for everyday use which will help you in both running and routine strolling.
Stroller For Twins
Buying a stroller for twins again requires relevant research to finalize the best suitable double stroller. Strollers for newborn twins have different merits. For toddler twins, we need another type of stroller. I've written a detailed article, 'Double Stroller Buying Guide,' which will help you finalize the appropriate double stroller according to your needs and circumstances.
Stroller For Travel
Travel strollers are exclusively made for parents who travel frequently. These are super lightweight and super compact strollers. Travel strollers are suitable for air travel and regular road trips. Umbrella and lightweight strollers are made to fulfill traveling needs.
Is One Stroller Enough?
Now a question arises that people often ask, can a single stroller fill all strolling needs? I've written an article specifically to cover this topic. In the article 'How Many Strollers Do You Eventually Need?' I've explained different situations and the particular needs of people that urge them to buy another stroller. After reading my suggested article, you'll have refined knowledge about baby strollers that will help you to choose the right fit for your lifestyle.
Read the complete stroller care guide to keep your stroller clean and sanitized.
Let's Culminate
So here we culminate our guide on baby strollers. I do hope that this article has helped you in choosing your best match for your needs. I've explained every aspect in detail. It will give you a better understanding of different types of baby strollers, their utility, and their specific application in different situations.
The primary purpose is to direct you in choosing the right stroller that you need to fit into your lifestyle perfectly. If you've any questions or any suggestions, just paste them below in the comments.