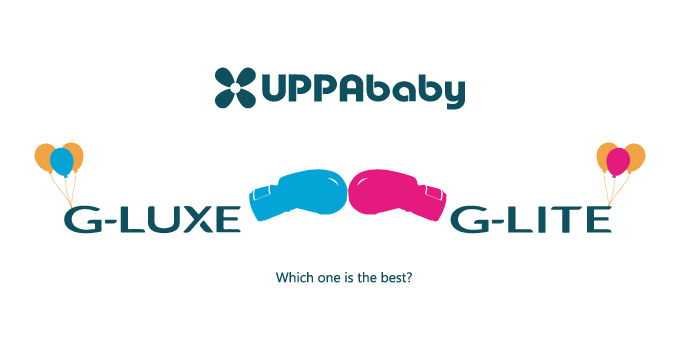 The UPPAbaby G-luxe and the UPPAbaby G-lite are two strollers that have a lot of similarities but also have some differences.
What are the differences between G-Luxe and G-Lite? This is a question that many parents ask. There are big differences in price, weight, height, seat dimensions, and even shade coverage. We will discuss these differences in detail below to help you decide which stroller is best for you.
UPPAbaby is a company that has been in the business of making high-quality baby products. Today, UPPAbaby is one of the most well-known brands in strollers, car seats, bassinets, and other baby supplies. With so many different options available today it can be hard to find your way through all of them.
That's why we're here to help you choose the best G-Luxe or G-Lite stroller for you, based on what matters most to you and your baby.
Quick Comparison : G Luxe vs G Lite
Differences
| | |
| --- | --- |
| It weighs (Frame + Seat: 16.3 lbs) | It weighs (Frame + Seat: 11.2 lbs) |
| Start using it from third mont. | UPPAbaby recommends to use it from sixth month. |
| It has single front and double rear wheels. | It has double wheels at all corners. |
| It comes with all-wheel suspension. | You'll not find suspension with it. |
| G-Luxe gives 3 position recline. | You can recline its seat in 2 positions. |
| Its width is 18.7″. | It's 18.2″ wide. |
| 19.2" L x 12" W x 41.8" H | 12.5" L x 10.7" W x 42" H |
| It has higher price tag than G-Lite. | It's available at low price when compare with G-Luxe. |
| | |
---
Where They Are Same
| | |
| --- | --- |
| Umbrella handles. | Umbrella handles. |
| A cup holder is given to attach with handle. | It also has cup holder. |
| Its basket capacity is 10 lbs. | Its basket capacity is also 10 lbs. |
| Its maximum weight recommendation is 55 pounds. | It also has the maximum weight recommendation of 55 pound. |
| G-Luxe : 13 x 12 x 45 inches | G-Lite : 13 x 12 x 45 inches |
| | |
---
Unique Options With G-Luxe
Recommended Age Three Months.
Large Canopy.
Soft Umbrella Handles.
Padded Seat.
Sturdy Cup Holder.
Five Point Harness.
Seat Recline.
Adjustable Calf Support.
Ample Storage Basket.
Sturdy Plastic Wheels.
All-Wheel Suspension.
Easy Folding & Parking Brake.
What Is Missing In G-Lite
Recommended Age Six Months
Seat Cushioning
3 Position Seat Recline
Calf Support
---
---
---
UPPAbaby G-Luxe
The G-luxe is a more traditional stroller that weighs 16.3 lbs. While this model is a bit bulkier, it offers many of the same features as its counterpart but also some additional ones. This one can hold up to 55 pounds, which means you won't have to upgrade for longer than with the G-lite. Like uppababy Vista or Cruz models, all G-luxe have an all-wheel suspension system so your child will be comfortable no matter where they're going. There's even a cup holder available.
The five-point harness holds your child securely inside, and the seat reclines to provide an optimal riding experience for babies as young as three months old or up until they're 55 pounds.
This is a beautiful stroller that has a complete feature full pack. UPPAbaby made it nice and handy. It'll give the best value for your money and will be your long-term strolling companion. Let's start assessing this stroller from top to bottom.
Exceptional Specs of UPPAbaby G-Luxe
This product comes with additional features like UV sun protection canopy which provides extra coverage from harmful rays, large storage basket, ergonomic handles designed specifically for parents' comfort during assembly and folding down, as well as ease in maneuvering when pushing or pulling along while walking around town.
There is also adjustable calf support for kids to sit comfortably. It's one of the best features in G-Luxe.
Its compact design makes storage easier than ever before by folding down small without disassembling any parts at all. This way, you'll save lots of space in the storage area.
Large Canopy
Umbrella strollers normally have small canopies and even no canopy. But G-Luxe has comparatively a large canopy with an extension that gives sufficient sun protection for the baby inside the seat. Moreover, its canopy is SPF 50 which is an added safety feature for the little kid.
Soft Umbrella Handles
Its handles are specifically designed for parents to give them ease in pushing the stroller. G-Luxe has umbrella handles with soft padding that feel very comfortable to hold and push the stroller.
Padded Seat
Most umbrella strollers come with a simple hammock seat which is not super comfortable and you have to buy seat padding as an accessory. But G-Luxe comes with proper seat cushioning which is stain and waterproof. Moreover, this padding is removable so you can also wash it separately and no need to put the stroller under the shower.
Sturdy Cup Holder
A cup holder is an amazing accessory for parents. This stroller comes with a sturdy and quality made cup holder which is capable of holding large size bottles. Such small accessories add comfort to strolling journeys.
Five Point Harness
G-Luxe has a five-point safety harness that has an easy-to-operate mechanism with just a button. Baby remains completely safe inside the seat with its shoulder strap, lap strap, and crotch strap. All these straps can be opened by just pressing a single button.
Seat Recline
Again a wonderful option that most umbrella strollers lack is the seat recline. G-Luxe gives three-position seat reclines. You can recline it almost flat for baby to have a cozy nap. Its recline makes it suitable for babies of age three months.
Adjustable Calf Support
Calf support is a luxury feature that you can't imagine for an umbrella stroller. G-Luxe has adjustable calf support that helps the little kid to sit in the seat comfortably. You can fix it in a straight position to extend the seat for the younger child. Push it down to give comfortable seating for the older kid.
Ample Storage Basket
A storage basket is a major option that parents have to sacrifice while purchasing an umbrella stroller. But if you go for G-Luxe, you'll get a good size basket to store little things.
Sturdy Plastic Wheels
G-Luxe has sturdy plastic fully rounded wheels with a little bit bigger size as compared to regular umbrella stroller wheels. Its front wheels are swivel with a locking mechanism. So you can lock them to stroll on uneven pathways.
All-Wheel Suspension
An umbrella stroller is made super lightweight and compact so thinking of suspension in an umbrella stroller feels strange. UPPAbaby picked this strange expectation and equipped the G-Luxe with all-wheel suspension. Its suspension will help you to have a smooth ride with a lightweight baby carrier.
Easy Folding & Parking Brake
G-Luxe has an easy folding mechanism that will take less effort. It can stand itself when folded. A shoulder strap is also given to put it on your shoulder. A parking brake is given with the rear wheel. This is a foot operable brake.
Don't Ignore
It can be quite pricey compared to other brands in the market, thus, not all parents are able to afford purchasing one for their family. But if you have enough budget then it's worth buying because you'll never regret having spent on such a good stroller that will last for years.
Stroller isn't suitable for newborns. It can accommodate children from 3 months or up to 55 lbs, but do keep in mind that this weight limit applies only when the child sits upright and does not take into account other factors such as leg length.
The stroller's weight is a bit high when compared with the G-Lite.
This model does not have any accessories that could make its use more comfortable or convenient for babies or parents. There's only a cupholder.
UPPAbaby G-Lite
The G-lite is an umbrella stroller that weighs only 11.2 lbs. It folds down to a compact size for easy travel. It can hold up to 55 lbs of weight. You can use it with your baby from 6 months to all the way through preschool. Easy fold makes this model very convenient.
There's also storage underneath so that parents don't have to carry around too many bags or purses when they're out shopping or running errands. Even though it's super lightweight, the frame is sturdy enough for everyday wear and tear plus a little bit rougher terrain.
UPPAbaby g lite has two position reclining feature which makes it easier for the child to take naps as they become tired and fussy during their strolls outside. 
It weighs very little which means that most parents won't have any problem lifting it into their car trunk before going on vacation or out to dinner. This model is ideal for moms who travel frequently with their baby. It's low weight and perfect for travel since it is lightweight and compact.
What's Missing In G-Lite
G-Lite is a great stroller and will prove the best alternative for G-Luxe. Now have a look at features you'll not get in G-Lite when preferring it over G-Luxe.
Recommended Age Six Months
UPPAbaby recommends using this stroller for a baby with the age minimum of six months. G-Luxe on the other hand has the baby age recommendation of three months.
Seat Cushioning
G-Luxe comes with extra removable seat padding which is stain and waterproof. G-Lite misses this luxury and has a mesh seat with a five-point harness so the seating is secure for the baby. If a mesh seat is not an issue for you then you can go for this stroller. Mesh seat is suitable for hot summer days only.
Seat Recline
In G-Luxe we get an almost flat recline and the seat reclines with a lever. G-Lite lacks this comfortable recline. Its mesh seat has a zipper and you can have a recline by unzipping it. It doesn't provide enough recline so it's suitable for a six month old baby. G-Lite is not for you if you're planning to use it for a baby of age less than six months.
Calf Support
You'll get a padded soft and adjustable calf support in G-Luxe. This comfort option is missing in G-Lite and it comes with a fixed seat. So if you don't require calf support then you can go for G-Lite.
Conclusion
Both G-Luxe and G-Lite strollers are great options depending on what you need from a product like this. If you want something lightweight that's easy to transport with minimal bulk, then go for G-Lite but if you prefer more storage space plus additional conveniences, choose G-Luxe instead.
G-Luxe provides some comfort features with additional cost. I've explained above all the features that G-Lite lacks. If these missing features are not significant for you then you can go for G-Lite. If you want those luxury specs then you've to pay an additional cost for G-Luxe.
Happy Strolling!