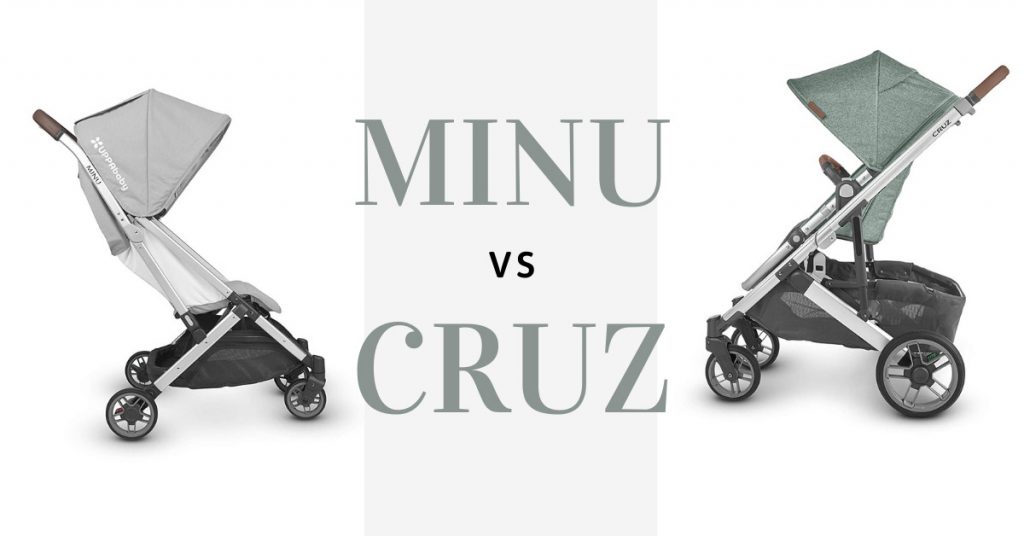 When you are looking for a stroller, UPPAbaby can be an excellent choice. UPPAbaby manufactures a wide variety of products that have been carefully designed to meet the needs of parents and children alike. UPPAbaby Minu is one such product in their lineup while the Cruz is another. UPPAbaby product that has been well-designed with several features not found in other brands. In this article, we'll break down the differences between two popular models as well as their features in order to help you decide which one is right for you.
Shop Amazon – Create an Amazon Baby Registry
UPPAbaby Cruz vs Minu : Their Differences
Minu
Cruz
Breed
Lightweight
Full Size
Type
Non convertible
Convertible to double
Rider accommodation
1
2 (with piggyback)
Car Seat Compatibility
MESA Infant Car Seat.
From Birth Kit.
MESA Infant Car Seat.
PiggyBack.
Bassinet.
Weight
Frame + Seat: 14.8 lbs
Frame + Seat: 25.5 lbs
Width
22.5″
20.5″
Folded Size
16.5″ L x 22.8″ W x 33″ H
11.5″ L x 20.5″ W x 23″ H
Maximum Basket Capacity
30 lbs
20 lbs
Recline Positions
Multi positions
5
All-Wheel Suspension
Yes
Yes
Adjustable Handlebar
Yes
No
Travel friendly
Yes
No
Price
Less Expensive
Expensive
UPPAbaby Cruz V2
The UPPAbaby Cruz V2 is a full-size stroller that has been engineered to provide all essential options in one package. It gives you the convenience and comfort of riding, as well as outdoor capabilities for walks around town or long trips out of town with ease.
Toddler seat variations
The seat can be positioned in multiple ways to allow for a fun ride. It has four different positions: forward-facing, backward and upright modes as well as a reclining mode which is perfect if you're taking your little one on a trip.
One-handed recline
A reclining seat is a must-have for parents who want to maximize the time their kids spend napping during long walks. Cruz has something special: it can be adjusted in five different positions, so there's one that will make little ones happy no matter what position they're sleeping or sitting upright.
Extendable UPF50+ canopy
With the baby inside, you can enjoy a scenic stroll down Memory Lane with this canopy-wrapped stroller. It features an extendable sunshade for your little one's comfort and airflow through mesh panels that allow parents greater visibility into their child's world.
Telescopic leather handlebar
You can adjust the handlebar height which gives extra kick room when pushing the stroller. Furthermore, leather coverings keep everything strong while maintaining a premium feel.
Extra large & easy access basket
The undercarriage basket is perfect for holding all of the necessities for a day out with the baby. It's roomy and easily accessible so you can grab whatever you need without having to stop and search.
All-wheel suspension
The all-wheel suspension ensures a smooth ride for both you and your child on different types of terrain. This is perfect for parents who take frequent walks around the neighborhood or like to travel with their children.
Self-stand fold
The Cruz is an excellent stroller for parents on the go. It can be easily folded, stored when not being used, and still provide support during your little journeys whether you're out shopping or running errands in town.
Expansion Options
The Cruz V2 Stroller has multiple convertible options that give you 3 different modes and makes it easy to transform the stroller according to your specific need.
Travel system
The Cruz V2 transforms into a performance travel system after you attach the Mesa Infant Car Seat. You can also use other brands' infant capsules, but they will need an Adapter for that respective car seat.
Bassinet stroller
You can quickly convert Cruz V2 into a bassinet stroller by attaching its compatible bassinet. UPPAbaby has also made it compatible with the Infant Snug seat, so you will get three walking options for those who want to use it as an infant carrier or newborn crawler.
Piggy back
Cruz V2 is a versatile and stylish stroller that can be easily converted to sit or stand modes. Once attached, the compatible piggyback turns it into an excellent option for parents on the go.
UPPAbaby Minu
UPPAbaby gives a wonderful lightweight stroller in the name of Minu. This is compact and easy-to-carry and offers plenty of options to make your outings enjoyable.
Like most UPBAbaby products. it can be taken anywhere with you thanks to its convenient carrying handle and folds down quickly when not in use so storage isn't an issue either.
One-hand, one step fold
Folding down Minu is so much fun. You can quickly fold it in seconds just by one hand, without any extra steps to take! It only takes a single tug on your part and then you're free for all-day adventures.
Smooth rolling
When it comes to your children, you want them in a vehicle that can withstand anything. The Minu is perfect for this as it has all-wheel suspension so they'll never feel their ride unbearable or bumpy while driving and even if there are small obstructions on the road; nothing will phase your little ones.
Roomy seat with multiposition recline
The Minu seat has a roomy design, which means it will be the best friend of any growing child. The chair can hold up to 50 lbs and also comes with a multiposition recline for when you need your little one to nap in peace.
Large, easy-access basket
Minu's basket is a spacious place to store anything from diapers and clothes to other items. You could store diapers, clothes, or anything that fits in it.
Ventilated Canopy
Minu's UPF50+ canopy has vents to keep the baby cool inside the seat during hot days. The peek-a-boo window gives parents a view over their little ones.
Travel friendly
The Minu is the perfect way to go minimal during travel. It's under 15 lbs. With an adjustable handle and shoulder strap, this small-sized jogging buggy can be taken on long walks without getting uncomfortable in one spot too much.
What Make Them Different
Breed
Cruz is a twin stroller with extra storage and bigger tires. It's great for parents who want to get out of the house and explore nature.
Minu is a lightweight, compact model. The Minu is perfect for city living and traveling because it's easy to fold up and stash in taxis or on bus rides.
Type
UPPAbaby Cruz is a single to double stroller with an adjustable handlebar, locking. The single to double convertible option is perfect if you need a larger carrier for your convenience.
The Minu is just a single pushchair. However, it can also be used from birth by attaching a compatible bassinet.
Infant Capsule
Cruz directly accepts MESA infant car seat and you don' need to by an adapter to convert it into a performance travel system, With comfortable car seat for newborn, this stroller is perfect for busy parents.
Minu accepts car seat with the support of the adapter which you would've to buy. Moreover, it's also compatible with other brand's infant capsule like Maxi-Cosi®,Nuna®, and Cybex. An adapter will be required to snip into the desired car seat.
Handlebar Adjustment
Cruz has an adjustable handlebar, which gives you more kick room to push and a better posture while doing so.
Minu does not come with this feature but it's still good enough for most parents who want the convenience of a lightweight stroller.
Travel Friendly
Cruz is a big, bulky foldable stroller. It isn't really good for traveling since it takes up too much room when folded, but it does have amazing features.
Minu is the perfect travel companion because it folds up to be as small and lightweight as a suitcase. It comes with an adjustable sunshade, has rubberized wheels for superior traction on any surface including grass or concrete sidewalks-perfect if you live in an urban area.
Why to Buy Cruz?
Uppababy Cruz offers a stylish appearance, packed with features such as a multi-position reclinable seat, plus padded seat providing the utmost comfort while you stroll your little one around town or countryside–it can be used right away without an additional car seat.
Go for Cruz if you want;
Full size stroller
Bassinet stroller
Performance travel system
Sturdy sit and stand stroller
Why to Buy Minu?
Uppababy Minu is all about comfort and convenience with its large canopy, reclining seat, extendable leg rest and lightweight. It has smaller wheels for better maneuverability on smooth surfaces only. Minu is more compact, with a smaller basket and fold. It's perfect if you're looking for something small yet versatile.
Go for Minu if you want;
Lightweight stroller
Sturdy travel stroller
Lightweight bassinet stroller
Let's Sum Up
UPPAbaby CRUZ is a popular choice for parents who've plenty of storage space. The stroller offers all the features most moms want, such as smooth strolling capability plus infant car seat compatibility and a roomy basket underneath which makes trips easier when taking things along.
UPPAbaby MINU is a lightweight, one-handed fold stroller. It has options for parents who want to use it as their every day and full-featured lightweight travel companion at home or on the go. It is a complete stroller, with some unique features like it can be used from birth that makes it popular among city families who want something for everyday use as well as those traveling by air where a small stroller is required.
Happy Strolling!