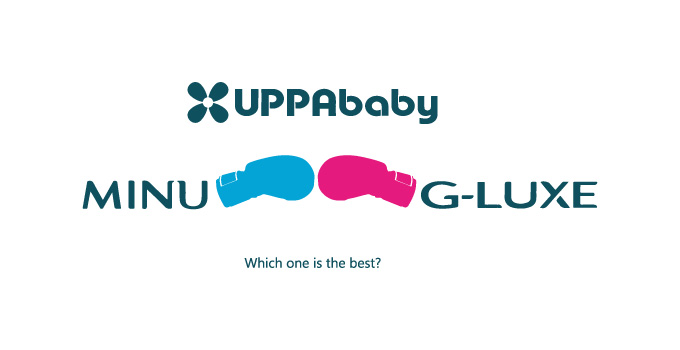 Uppababy Minu gives you a variety of options, yet is still a lightweight stroller. G-Luxe is often compared with Minu, and parents sometimes wonder what makes Minu so much more expensive. For parents to make the best decision, below is a detailed comparison of the two.
With a variety of unique features and benefits, the Uppababy Minu and G-Luxe strollers are ideal for the active family. Uppababy made them lighter, compact, and sturdy to serve strolling needs for years. Let's start!
Quick Comparison: Minu Vs G-Luxe
It weighs (Frame + Seat: 14.8 lbs)
Age recommendation: 3 months. Use it from birth(with accessories, sold separately).
It has a handlebar with a leather cover.
It has a single wheel at all corners. Rear wheels are bigger in size.
Minu comes with all-wheel suspension.
It gives a multi-position recline.
You can handle it with one hand.
Cup holder is not included.
Maximum basket capacity is 20 lbs.
Its width is 20.5″.
Maximum weight recommendation : 50 Pounds.
Product dimensions : 11.5 x 20.5 x 23 inches
It has a compact fold.
Folded Size : 11.5″ L x 20.5″ W x 23″ H
It's expensive due to its exceptional specs.
MINU
Its weighs (Frame + Seat: 16.3 lbs).
The minimum age recommendation is 3 months. You can't use it for newborn.
It has umbrella handles with foam grips.
It has double rear and single front wheels with same diameter.
G-Luxe also has all-wheel suspension.
Three-position recline.
Two-handed drive required.
You'll get a cup holder with the stroller.
Maximum basket capacity is 10 lbs.
Its width is 18.7″.
Maximum weight recommendation : 55 Pounds
Product dimensions : 13 x 12 x 45 inches
It has a bigger fold than Minu.
Folded Size: 19.2″ L x 12″ W x 41.8″ H
It has a lower price tag.
G-LUXE
Luxuries That Minu Offers
Use it from birth.
Travel system ready.
Full grain leather handlebar.
Large ventilated canopy.
Padded wide seat.
Strap seat recline.
Sturdy bigger wheels.
All-wheel suspension.
Bigger basket
One-hand easy fold.
MINU
Specs That G-Luxe Lacks
No option for infants.
No ventilation in its canopy.
No handlebar.
No multi-position Recline. Only 3 positions.
No bigger wheels.
No bigger basket.
G-LUXE
---
Detailed Comparison
Uppababy Minu Lightweight Stroller
This is a luxury lightweight stroller that offers several options to use this stroller for multipurpose needs. You can use it for a newborn with its accessories. Uppababy used nice fabric for its cloth parts which give this stroller an executive look. It has a strong chassis that is able to bear the long-term use of the stroller. Uppababy Minu will prove the best lightweight stroller among the entire strollers of this breed. This stroller offers great options that are unimaginable for a lightweight stroller.
Minu is a beautiful and elegant stroller and gives a wonderful strolling pleasure. Below, we'll discuss in detail the specs that Minu offers and gives the best value for your money. Have a look at its unique specifications.
Use From Birth
Uppababy offers a 'from birth kit' to use this stroller for a newborn. This kit(sold separately) converts the Minu into a bassinet stroller where an infant can lay down comfortably. This is an amazing option for such a lightweight stroller. Infant strolling options are not ending here, scroll down for the second option for infants of this stroller.
Travel System Ready
You can also convert it into a travel system if you don't want to use its 'from birth kit'. it's compatible with MESA, Maxi-Cosi, Nuna, and Cybex infant car seats. You'll need just an adapter to snap into the infant car seat(the adapter and car seats are sold separately). Options for newborns make it a versatile stroller. 
Full Grain Leather Handlebar
Full-grain leather on the handlebar gives a premium look and feel. You can push this stroller with a firm grip. The handlebar is fixed and doesn't give any adjustment.
Large Ventilated Canopy
Minu has a large canopy with a peek-a-boo window with a magnetic closure. You can keep it open on hot summer days for ventilation. An extension with the canopy gives extra sun protection.
Padded Wide Seat
It has a wide padded seat with proper cushioning. The little kid can sit comfortably inside the seat safely belted with a harness. It's a five-point harness that makes strolling more secure.
Strap Seat Recline
Minu gives a multi-position seat recline. It has a strap recline which allows you to incline the seat at any point where the baby feels comfortable. The strap recline has a little buckle lock to release and fasten.
Sturdy Wheels
Minu has comparatively bigger wheels than G-Luxe. It's very easy to push and control. You can push it with one hand. Its wheels enable it to roll on smoothly to provide a soft ride. Sturdy and bigger wheels play a vital role in the easy handling of this stroller.
All-Wheel Suspension
It has an all-wheel suspension that works with wheels and adds more comfort to its ride. The suspension soaks little bumps and keeps the baby safe inside the seat. Moreover, it helps to get a stable ride and smooth maneuverability.
Bigger Basket
Its storage basket is not huge as compared to a basket with standard strollers. But the basket gives ample space when we compare it to regular lightweight strollers. Its basket will help you to store various items under the seat.
One Hand Compact & Easy Fold
This awesome feature makes it a travel-friendly stroller. It has a super easy fold with just pressing a button at its handlebar. It collapses quickly and folds down small. Carry the folded stroller on your shoulder with its strap or in the trunk. You can lock the folded stroller and it can self stand when folded.
Uppababy G-Luxe Umbrella Stroller
Uppababy G-Luxe is an umbrella stroller, a lighter variant by excluding significant specifications. It's a wonderful stroller and will prove the best choice if you don't want to spend extra money on Minu. Let's have a look at the missing features of G-Luxe when we compare it with Minu.
G-luxe is a compact and sturdy stroller. It lacks some important features when comparing it to Minu. These missing specs make it available at a lower price tag. Below, I've explained the important options that you'll not find in G-Luxe.
No Option For Newborn
G-Luxe doesn't offer any option for the newborn. Its minimum age recommendation is three months. So it's suitable for a baby who can sit with proper neck control.
No Ventilation In Its Canopy
You'll not get a peek-a-boo window in its canopy and obviously no ventilation is available. This option is significant for many parents as they want to keep a full watch on the baby.
No Handlebar
It has umbrella handles covered with soft foam grips which look simple. On the other hand, Minu has a handlebar covered with leather which gives a premium look.
No Multi-Position Recline
G-Luxe has a three-position recline. While the Minu gives a strap recline which allows multi-position comfortable seat inclining.
No Bigger Wheels
It has smaller wheels of the same breadth. Whereas in Minu, we find bigger and beautiful wheels that enable Minu to roll on easily.
No Bigger Basket
G-Luxe gives a smaller basket than Minu. However, G-Luxe has a good basket but if you want a bigger one then go for Minu.
UPPAbaby Minu Or UPPAbaby G-Luxe
So you've read the complete comparison and now the time comes to decide for the final choice. Both Minu and G-Luxe are the best strollers in their respective fields. They give a lot of significant features that help to get an enjoyable ride. Minu has wonderful additional specs that G-Luxe doesn't give. It's up to you to choose any one of them by observing your needs and preferred specs.
Below, I've further elaborated on this topic according to the specific features that allure a customer to buy. This last section will help you to decide the best match for your needs.
Why Choose Uppababy Minu
Uppababy Minu is a better option than G-Luxe if you want a lightweight stroller for a newborn. Minu is a versatile and compact stroller that comes with additional specifications. It offers wonderful options that regular lightweight strollers don't have.
Minu offers its great utility and allows you to use it for an infant with an Uppababy newborn kit. Further, you can also convert it into a lightweight travel system. Minu is a nice and beautiful stroller with a silver frame which gives it a graceful look.
Go for Minu if you want a lighter stroller to use for an infant. Minu will serve you for a long time. It'll be the best fit if you don't have extensive stroller use. You can use it as a newborn carrier, as a standard stroller, or as a travel stroller. Its versatility enables it to meet all your strolling needs.
Why Choose Uppababy G-Luxe
Uppababy G-Luxe is enough to fill your strolling needs if you don't want a stroller for an infant. This umbrella stroller is also lightweight and travel-friendly. G-Luxe is best for short walks, traveling, and shopping tours. Moreover, it's a sturdy stroller that is able to serve you for years. So you can use it as a secondary stroller. So this is the detailed comparison between Uppababy Minu and Uppababy G-Luxe.
Let's Conclude
Both are wonderful strollers and give the best value for money. Both are travel-friendly, lighter, and compact strollers. Uppababy Minu is a wonderful and beautiful stroller that has great features and proves a better stroller than G-Luxe. Minu is the best choice if you are looking for a lightweight newborn carrier. You can use it for an infant with its accessories(sold separately).
If you want just a lighter stroller for a baby of age about three months and above then Uppababy G-Luxe is there to serve you. G-Luxe is a nice and handy stroller that can fill your day-to-day strolling needs very well. That's all from my side. I hope that this article has helped you make a good decision. If you've any queries just ask me below in the comments.
Happy Strolling!
---