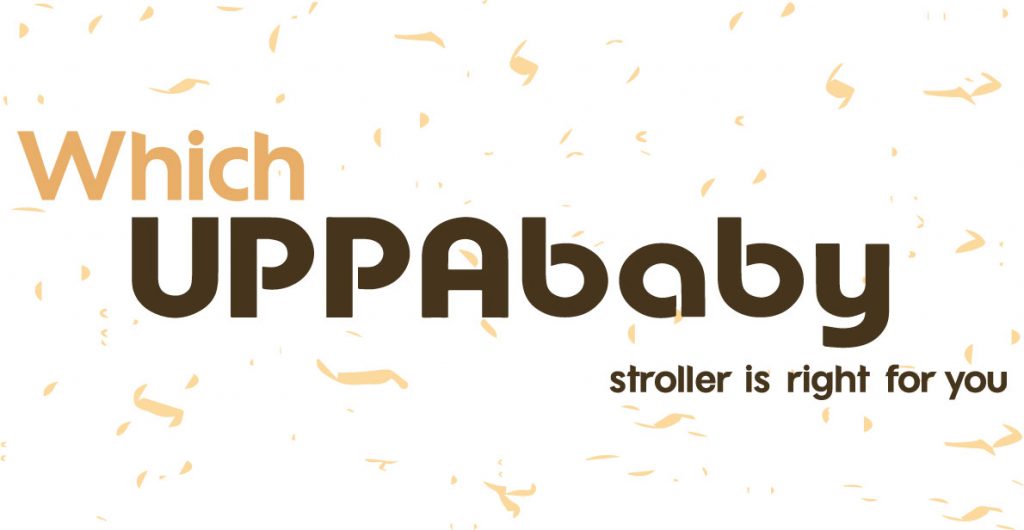 The UPPAbaby is one of the most popular brand on the market. With a name like "UPPAbaby", you know that your baby will be in good hands with this reliable product!
When we imagine the UPPAbaby stroller, our minds are filled with an extraordinary sense of quality. It's hard to think about anything other than how much people love UPPAbaby products because of their goodwill and high-end features for years upon years.
UPPAbaby is a well-known name in the baby accessory industry. It's this trust that has been earned and maintained over time through offering high-end products, which makes them one of America's favorite brands.
UPPAbaby manufactures strollers in two categories
Full-size
Lightweight
You're probably looking for a UPPAbaby stroller and one of those people who can't decide which UPPAbaby is rightly fit to their needs. Well, this article is to help you to make a decision because we'll be telling you all about how these awesome products work and which UPPAbaby stroller is the right fit to your lifestyle.
Stroller shopping can be confusing and overwhelming for parents with a variety of needs. UPPAbaby strollers are well-loved because they take infant capsules, convertible into travel systems, and are perfect for everyday use. Whatever your lifestyle preferences may be. One thing's certain: anyone of these versatile pieces will meet all your demands.
You'll hardly need only one or a maximum of two strollers based upon your specific requirements. Let's start with the full-size category and analyze these products individually so you can make an informed decision.
UPPAbaby VISTA V2 Stroller for Two Kids
Vista V2 is an all-rounder that gives you;
A bassinet stroller,
A travel system(car seat sold separately),
A single to double stroller(second seat sold separately).
The most versatile UPPAbaby stroller. It's perfect for any parent and will quickly become your favorite. The most versatile stroller on the market, UPPAbaby's classy and stylish frame can be converted from a typical single to double tandem style seat in seconds.
This stroller has the slogan "One for all," which means you can use it for years to fulfill the needs of your growing family. If you got this stroller for your first kid, you won't need to get another one for your second, third, or even fourth child.
The Vista V2 Stroller is a multifunctional strolling partner that can take on three kids of different ages. It accepts an infant car seat, two toddler seats and even includes space for your third child who will ride piggyback (infant capsule, rumble seat and piggyback are sold separately).
Vista V2 becomes a perfect travel system for on-the-go parents. You can snap into MESA infant car seat and convert it into a performance travel system in seconds. It maneuvers easily with its all-wheel suspension and comes with a self-standing fold.
It's loaded with life-easing features like an adjustable handlebar, one-handed recline, and extendable UV protection canopy which makes it easy to take on your next adventure.
Telescopic handle adjustment gives much ease in your day-to-day strolling and helps in maintaining the right posture while pushing the stroller.
It includes the bassinet in the box and allows you to use it for infants. The handy stand for the bassinet (sold separately) enables the easy portability of this little playard. So your baby can sleep comfortably and safely.
This full-size stroller is the perfect option for parents who want a sturdy frame with all the features of a regular, full-sized stroller. Whether you are looking for a travel system, car seat stroller, or just an everyday stroller, the VISTA V2 is for you.
When UPPAbaby Vista V2 is Right Stroller for You?
UPPAbaby VISTA V2 is the best stroller if you want;
A luxury travel system
A graceful bassinet stroller
A sit and stand stroller for three kids
A single to double convertible stroller, or,
An all-rounder stroller for the long run and you intend to use it for growing family
UPPAbaby CRUZ V2 Stroller for newborn
UPPAbaby Cruz v2 is the lighter version of Vista V2 which is a compact single stroller best for newborn with many specs and allows flexible functionality. Cruz V2 offers four strollers in the frame of one;
Travel system (car seat, sold separately),
Bassinet stroller (bassinet, sold separately),
Infant stroller (with infant snug seat, sold separately), and,
A regular stroller.
The Cruz V2 is a fantastic stroller with three distinct walking modes for the little one, allowing you to easily stroll with him or her.
It's compatible with the MESA infant car seat that fits directly into the frame without any additional adapters. This will convert it to a luxury travel system.
Specifically designed SnugSeat can be used for the newborn, making it a great choice. It's also perfect as an everyday stroller. You can transform it into a sit-stand stroller by attaching its piggyback.
Its bassinet is there if you want to use it as the bassinet stroller. The bassinet is the most comfortable and safe strolling option for infants. You can also use the bassinet without stroller with its stand.
Cruz has all the same great features as Vista with two major differences–the Cruz can't handle three children and it's less expensive. Furthermore, it's an excellent option for parents who need a full-size stroller that can accommodate one infant car seat or a bassinet.
It also has a large storage basket that's easily accessible, making it easy to grab whatever you need while on the go. Basket is great for your diaper bag, purse, keys, and phone because you'll never want to leave anything behind. The extendable sunshade provides coverage from the sun, and the one-handed recline makes it easy to adjust the seatback.
Cruz V2 is a great investment for new parents who want to live their lives worry-free. You'll be stress-free if you've purchased Cruz V2 when your baby was born. It'll start serving you from birth until the baby retires from the stroller. UPPAbaby gives the family stroller so you can comfortably use it for future little family members.
UPPAbaby Cruz V2 is Right for you:
UPPAbaby Cruz V2 is the best choice if you're in search of a;
The luxury travel system
Elegant bassinet stroller
Beautiful single stroller
A sturdy stroller that can serve you for all kids turns by turn
UPPAbaby MINU Stroller for Travel
Now comes the UPPAbaby Minu, a stroller in the lightweight category. Minu is an amazing stroller that is able to fill your various needs. You can use it as;
A travel system (car seat sold separately)
A bassinet stroller (with its from birth kit, sold separately),
A travel stroller,
Occasional use stroller,
A regular stroller.
Such versatile strolling options with a lightweight stroller like Minu make it an extraordinary lightweight stroller when compared with other brands in the market.
Although the size and weight of this stroller make it suitable for older babies, who can already walk well, or for moms looking for an all-around family stroller. it's so versatile that we named it one of the best lightweight strollers on the market. With a portable like Minu, you can make your life easier.
Make it a travel system by snapping into the MESA, Maxi-Cosi®, Nuna®, and Cybex infant car seats with the help of their supportive adapters.
Transform it into the bassinet stroller with its beautiful from birth kit. You can use a lightweight bassinet for infants, or choose to lay them in a cozy capsule and take along some extra comfort on long walks.
This stroller is easy-to-use and lightweight that is perfect for everyday errands and short trips. It won't break your back while carrying a stroller up and down subway steps, or while traveling on a plane, train, or car. Besides what we've already mentioned, this lightweight stroller is suitable for all parents.
Minu is your compact travel companion and it has all the features of a luxurious full-size stroller. With Minus, you can go on an adventure without worrying about weight or space.
UPPAbaby Minu is Right Stroller for You
UPPAbaby Minu will be the best option if you're looking for a;
The lightweight travel system,
Compact regular stroller,
Sturdy travel stroller,
A backup of your luxury stroller for casual use.
UPPAbaby G-LUXE Stroller for Travel
You will be impressed by the stylish design and quality of this stroller from UPPAbaby. It has a cushioned seat that's perfect for your little one, as well as soft-grip umbrella handle so it'll feel like an easy push-in in no time.
It features fabric seats made with high thread counts to provide comfort while you're on the go-just what every mom deserves after spending hours at work bringing home groceries or taking care of children all day long.
The lightweight umbrella stroller is a very popular choice among parents. It doesn't offer the luxury options like infant capsule compatibility, but it still has many specs that make up for this shortcoming.
For instance: one-step brake system (to help prevent accidents), self stand fold function where you can easily fold/unfold at any time; big basket holds lots of things including snacks in between runs to grandma's house–perfect size so as not limit movement when folding/ unfolding.
The most prominent feature of this luxury umbrella stroller is its all-wheel suspension which enables it for a comfy ride with a responsive shock-absorbing system. Moreover, it also has an extendable UPF50+ canopy over the seat and provides sufficient sunshade to protect your child from harsh sunlight or little rain on walks in no matter what season.
So if you are looking for an umbrella stroller that is comfortable for your child, stylish for you, and easy to fold/unfold without any hassles, the UPPAbaby G-Luxe Umbrella Stroller is a perfect choice.
UPPAbaby G-Luxe Stroller is Right for You:
G-Luxe is the best option if you're searching for;
Durable umbrella stroller,
Compact stroller travel,
A backup to your luxury stroller.
UPPAbaby G-Lite Stroller Best for Travel
The UPPAbaby G-Lite is a lightweight, compact stroller for parents on the go. It includes several features that make your stroll easier and more comfortable.
The name says it all: The UPPAbaby 'G Lite'. UltraLightweight Compact Stroller has been designed so you can take comfort along wherever life leads.
You will find the luxuries like all-wheel suspension and seat recline. The biggest difference between this one and others umbrella strollers on the market is Its larger canopy for UV protection, spacious storage basket below your child's seat that can hold up small items.
It is the perfect stroller for travel. Its small size means it can be thrown in your car or stored at home, and its fold makes traveling easy. You'll have no problem taking this lightweight jaunt through airports with you, even if it's just short walking around town nearby from hotel lobbies to grocery stores.
The G-Lite is the ideal secondary stroller, perfect as a backup to your larger and more expensive luxury or all-terrain stroller.
So, if you are looking for an umbrella stroller that is compact and easy to fold/unfold without any hassles, the UPPAbaby G-lite Umbrella Stroller is a perfect choice.
UPPAbaby G-Lite Stroller is Right for you:
G-Lite will prove you the best if you want;
Quality made umbrella stroller,
A lighter stroller for traveling,
A backup to your luxury stroller.
UUPPAbaby G-LINK 2 Twin Stroller for Toddlers
The UPPAbaby G-Link 2 is the perfect stroller for toddler twins. It has multiple activity stations so you can keep your kids entertained while on adventures without having them get tired out from sitting in one position all day long.
With two seats that can hold up to 55 lbs each in addition to being side by side style (perfect for twins). Moreover, this gentleman has everything any busy family needs when juggling kids of different ages.
The UPPAbaby designer knew just what parents need; a stroller that can fit through narrow spaces, like the doorways of an apartment building or condominium. The two seats are so perfectly placed inside this frame to provide you with maximum convenience and minimum bulk.
With G-Link 2, you'll be able to take your kids on a comfortable ride with the proper cushioning that they need. Though this stroller does not have some luxury options but still stands out from its competitors. G-LINK 2 is affordable, lightweight, and easy to use for parents with two toddlers.
Both seats have an independent recline, five-point harness for your child's safety, separate extendable deluxe UPF 50+ canopies to block out the sun's harmful rays providing ultimate UV protection. it's easy to fold and unfold, making it the perfect option for busy parents.
Its beautiful design gives it a sleek looSo, UPPAbaby G-Link 2 is perfect for parents with two children. The stroller is suitable for children 3 months and up, and it has great features that make taking care of twosomes a lot easier.
UPPAbaby G-Link 2 is for You:
If you are searching for;
Sturdy and lightweight side-by-side double stroller for twin toddlers,
A double stroller for toddlers of different ages (not less than 3-months),
A compact travel double stroller.
Let's Sum Up
I've provided the reviews for UPPAbaby strollers to make the right decision. The UPPAbaby VISTA and CRUZ are both great options that come with a lot of features, like the reversible seat and all-wheel suspension. Both strollers can be used from birth to toddler age.
UPPababy Minu is a luxury lightweight stroller with a lot of additional features. Minu is perfect for parents who are willing to pay extra money for the best quality. Minu gives a lot of value for the price.
If you are looking for an affordable and lightweight option, the UPPAbaby G-LITE and G-LUXE umbrellas strollers might be perfect for you. They are both easy to fold and very compact, which is great for traveling. Both can hold children up to 55 lbs.
The UPPAbaby G-LINK 2 Double Stroller is a great option for parents who want to buy the perfect stroller for two kids. The stroller has everything you need, like double canopies and reclining seats.
The UPPAbaby collection is truly all-inclusive, and every stroller comes with the quality that parents want for their children's safety and comfort. With UPPAbaby, you can travel worry-free.
Happy Strolling!