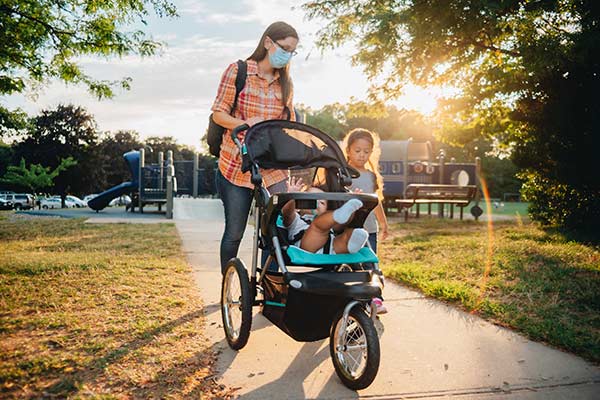 Do you want a sturdy stroller that can help you in jogging and everyday use? Most jogging strollers offer the luxury of multiple services, but you are searching for the best one. I've included in the list below carefully selected jogging strollers best in their field to serve the running and routine strolling needs.
Manufacturers introduced the front wheel swivel function in these strollers. The swivel feature enables these jogging strollers suitable for everyday use. Front-wheel can be locked in a straight position to go for a jog. These are hybrid strollers that are usable for regular strolling and jogging purposes. They are sturdy and comfortable, like standard strollers.
Before diving further into this article, I'll recommend you to read my complete guide on choosing a jogging stroller. This guide will help you to have a better understanding of running strollers and in finding the best product.
Keep Remember
Child safety experts recommend the minimum age of a baby should be at least six months to go on jogging in the stroller. However, it's better to wait a little more to get a baby older, about eight months. So that baby can develop a mature spine and head control to qualify for a jogging stroller's seat.
This article's recommended strollers can carry a newborn in the infant car seat except the Baby Jogger Summit X3. Remember that you can go out with an infant in a car seat for little walks but never go on a jog with a newborn in the car seat.
This class of strollers outperform regular strollers when it comes to sturdiness and daily use. These strollers provide better maneuverability on bumps and gravel roads where a regular stroller fails. Due to their bigger wheels and suspension, the comfort level is exceptional in these strollers.
Exclusive List Of Jogging Strollers Best For Every Day Use
In the list below, you will find the best-picked jogging strollers to fill multi-purpose needs. These strollers are up to date and have all the essential specifications that help a joy full ride. I've sorted this list of jogging strollers upon two main characteristics;
Best suitable for jogging and everyday use,
Having the feature of hand brakes.
Considering modern-day strolling needs and parents' queries, following strollers are capable of letting you run or go out for routine walking. All strollers on the list have a swift braking system. Let's start with the first gadget.
BOB Revolution PRO
Maximum Weight Recommendation: 75 Pounds.
Bob PRO is the best option for you if you want a fully loaded stroller with all bells and whistles. Its flexible functionality makes it capable of filling various strolling needs. It will help in your routine walks and grocery tours as a regular stroller. PRO has super easy maneuverability to make your little walks very easy by providing an effortless push. Its storage basket will help you to store your small sundries.
When you want to jog, only with a click on its front swivel wheel, you can go on jogging with your lovely kid inside the stroller. This stroller wins the trust of many parents and has satisfied feedback. Take a look at its exceptional features.
Mountain Bike Type Suspension
This stroller comes with an adjustable suspension, which maintains a very smooth, comfortable ride. The primary purpose of suspension is to absorb bumps. Its suspension works wonderfully on bumps when you stroll around with your baby.
Travel System Ready
Excellent feature of BOB PRO that you can attach any compatible Bob or Britax infant car seat to it. You will need a car seat adapter to convert this stroller to a beautiful travel system. This feature makes it capable of carrying a newborn safely.
Adjustable Handlebar
Pivot adjusting allows nine different positions to fix the handlebar at your comfort place. This feature is fantastic for parents of different heights. By adjusting the handlebar at the right place, you can get sufficient kick room to push the stroller.
UPF 50+ Large Canopy
A large canopy provides enough sunshade. UPF 50 provides extra protection from ultraviolet rays. Baby remains calm in a cushioned seat, and with a large sunshade, you don't need to worry about the hot sunlight.
Pneumatic Tires
Pneumatic tires have a significant role in providing smooth maneuverability. Tire and suspension combined work to move strollers with fewer efforts. As you apply energy to push the stroller, the mechanical result of suspension and tires absorb the energy to give a comfortable ride.
Tether Strap
Tether strap to wear on the wrist for extra safety of the baby inside the stroller. It is recommended to wear a tether strap all the time when the stroller is in use. This strap helps you control the stroller when you're going downhill or sitting and wearing a strap on the wrist to hold the stroller with you.
Hand Brake
This stroller comes with a hand-operated responsive brake system. Brakes are essential for a jogging stroller and become more critical when you're living in a hilly area. You can easily control the stroller's pace with its brakes.
Seat Recline
Its seat has a recline of 70 degrees down. Suitable for babies those have proper neck control. Seat recline is a luxury for babies to nap inside the stroller comfortably. Baby can take a cozy sleep with the help of a large canopy, five-point harness, and cushioned seat when reclined.
Easy Fold
Folding for some strollers is a tricky process. But when it comes to Bob PRO, you will get an easy and compact folding. This stroller can be easily put on and off in the car when folded.
Storage Basket
This stroller's wow feature is its basket, with sufficient space that can be zipped off to keep small items safe. Especially when you're going on bumpy roads, the little thinking inside the zipped basket will not bounce out. Moreover, being zipped, the basket also provides you privacy when you leave the stroller outside the ride on Disneyland trips or anywhere else.
Five Point Harness
Safety experts recommend buying the stroller with a five-point harness. Bob PRO comes with a five-point harness to keep the baby safe inside the stroller.
Don't Ignore
Bob PRO is a wonderful stroller that provides the best value for money. Due to its structure, it becomes a bulky product. Its features of suspension and brake system make it heavier than a regular stroller. Moreover, due to luxury specs, it becomes a costly stroller.
Bob PRO is the best product if you want a stroller to be useful for running and daily outings.
Alternative Bob Model At Lower Price
BOB Gear Revolution Flex
If you find this stroller expensive, then don't worry. Bob offers another option in the name of BOB Gear Revolution Flex.

This model fulfills all the strolling needs from running to routine walks with a little bit shuffling of specs and features. Flex is a sturdy and quality made stroller available at a lower price tag.
---
Thule Urban Glide 2
Maximum Weight Capacity: 75 lbs.
If you want a lightweight and compact jogging stroller capable of easy maneuverability, Thule Urban Glide 2 is the best fit to fill your needs. This stroller comes with an innovative design with a glowing look and convenient functionality. Best suitable for daily use and jogging. With its unique architecture, this stroller gives a modern look.
The swivel front wheel helps the stroller to move on quickly. You can go on jogging by just clicking a lock on the swivel. Reflective piping on the seat gives a unique metallic look. Thule Urban Glide is a stylish stroller with a slim design that offers several features. Let's discuss its unique specifications, which make this stroller worth its price.
16 Inches Large Rear Wheels
Its bigger wheels provide a comfortable ride. With its 16 inches wheels, this stroller performs extraordinarily on bumps and uneven roads. You will feel better control over the stroller during the jog. With its bigger pneumatic tires, this stroller allows flexible maneuverability with less energy.
Adjustable Handlebar
With its adjustable handlebar, you can have sufficient kick room after adjusting the handlebar at your desired position. This feature is fantastic for parents of different heights.
Twist Hand Brakes
This stroller comes with dynamic caliper style brakes. Its braking system gives you full control over the stroller and works very well on steep terrains and slopes. Brakes work with a twist and are very easy to use.
Multi-Position Canopy
The canopy can be adjusted in multiple positions, giving a sufficient space about 28 inches from the bottom of the seat to the top of the canopy. Ventilation space in the canopy provides a better environment in the seat.
The Peekaboo Window at the canopy with magnetic closure gives convenience to keep watch on the baby. This type of little luxury becomes more significant when you don't want to disturb the sleeping baby.
Large Storage Basket
Basket is an essential feature for everyday use strollers. Thule comes with a large storage basket with a top zipper cover to keep the items safely inside.
Tether Strap
Safety is a must when you go out with a stroller. Tether strap gives an added security. Easily wear this hand strip on your wrist and get peace of mind when you go out with your baby.
Allow Car Seat
With its universal car seat adapter (sold separately), you can attach any compatible car seat to this stroller. Thule provides three car seat adapters;
Universal Car Seat Adapter

Car Seat Adapter For Chicco

Car Seat Adapter For Maxi-Cosi
One-Handed Compact Fold
Thule Urban Glide provides a compact fold when you compare it to other jogging strollers. This stroller has a smart fold after removing its rear wheels. Easily removable wheels allow you to pack and go with this stroller quickly.
Don't Ignore
Parents of tall kids are not satisfied with this stroller. So if your kid is taller than average, then its seat may not fit for comfortable seating. Joining parts of the stroller are plastic made, which may wear out if you've extensive daily use of the stroller. However, the plastic parts on the positive side give this stroller the exceptional feature of being lightweight.
---
Baby Jogger Summit X3
Maximum Weight Recommendation: 75 Pounds.
Here comes another excellent jogging stroller with a variety of options and unique features. Baby Jogger Summit X3 has a super smooth ride due to its specification of all-wheel suspension. From strolling to jogging, this stroller will prove the best companion for your everyday use and for running as well.
The Summit X3 is an excellent option for parents who want one stroller that does it all while maintaining all the style and safety you'd expect from a stroller. This stroller offers excellent features and gives the value for money. Let's have a look at its unique specs.
Patented Quick-Fold Technology
Summit X3 comes with patented quick fold technology that enables you to fold this stroller with one hand. The one-handed fold is significant when you're holding a baby while folding the stroller with your other hand. An effortless mechanism to fold and unfold the stroller saves your time.
All-Wheel Independent Suspension
The outstanding feature of all-wheel suspension soaks bumps and shock to give a super smooth ride. All wheels have independent suspension that is an added feature to provide extra soft rides.
Remote Swivel Lock
Remote swivel locking is a unique feature of this stroller. Think you are taking off for jogging and what you need to do is press the remote swivel lock on the handlebar. You will not have to go all the way down to the front wheel for locking it, as happens in the standard swivel locking.
Quick Release Bigger Pneumatic Tires
Bigger pneumatic tires provide added comfort to the ride along with the all-wheel suspension. Bigger pneumatic tires absorb the energy you apply to push the stroller, and you can move the stroller with less effort.
Responsive Hand Brake
A responsive hand brake system provides full control over the stroller. Its hand-operated rear drum brakes are very efficient and work well to give you better control over the stroller.
Adjustable Five-Point Safety Harness
An adjustable five-point harness keeps the baby safe inside the stroller. The shoulder pad is an extra addition for the comfort of the baby.
Flexible Large Canopy
Summit X3 has a flexible canopy with a peekaboo window and air vents. A large-sized canopy provides a good sunshade for the baby.
Storage Basket
This stroller has a pretty deep storage basket to fit in various sundries. Extra storage is also available on the back of the seat.
Don't Ignore
Summit X3 is a beautiful stroller. However, it does not provide handlebar adjustment. If a fixed handlebar is not an issue for you, then there is no problem. Its foot brake is excellent and easy to use but be careful when you're wearing sandals. The stroller's seat provides a compromised space for a taller kid. Moreover, it doesn't allow a car seat to fit in.
Overall, Summit X3 is the best stroller in its price range. It offers plenty of useful features to make your strolling easy.
Alternatives To Summit X3
Bob Gear Rambler
Bob Gear Rambler provides almost the same specs that Summit X3 offers. You can consider it the best alternative to Summit X3. Rambler gives a smooth ride with its suspension and pneumatic tires. Have a tether strap for added safety. Being a travel system ready jogging stroller, it offers a great experience of strolling tours.
---
Chicco TRE
Maximum Weight Recommendation: 55 Pounds.
An amazing stroller that provides a lot of options to make your life easy. Chicco TRE can help in daily use and workouts. It has a removable seat, and you can attach a car seat for a newborn to its frame. With its bigger Pneumatic tires, this stroller provides a stable, smooth ride. Moreover, the adjustable suspension allows you to fix it according to your need.
Sporty fabrics
The seat fabric is sporty that gives you the ease of cleaning. You can wash it when needed. The water-repellent quality of the fabric makes it much suitable for kids who are going to create a mess on the seat with water and milk etc.
Accepts a Car Seat As Carrier
TRE is a car seat carrier which is the unique characteristic of this stroller. You can remove its seat to fit in a car seat to carry a newborn. The incredible thing is that its weight reduces a lot when you remove the stroller's seat. It remains lightweight even after putting the car seat in. so you will not have to push the extra weight when you're going with a newborn in the infant capsule.
You can also directly snap in the car seat if you don't want to remove the stroller seat. KeyFit or Fit2 clicks directly into the stroller seat or empty frame (car seat sold separately).
Dual Hand Brake
Another fantastic option Chicco TRE offers is its dual hand brakes, one for speed control and the other is the parking brake. The deceleration hand brake is much helpful when going downhill to have full control over the stroller. The parking brake keeps the stroller in place and stops the stroller's rolling due to the baby's movements inside the stroller.
Adjustable Handle
Its handlebar provides three position adjustments. So you can set the handle at your comfort point to move the stroller quickly.
Extra-Large Canopy
This stroller comes with a waterproof extra-large canopy for sunlight protection. A good sunshade helps the baby to take a comfortable nap inside the seat.
Flex Core Adjustable suspension
The outstanding feature of Chicco TRE enables you to adjust its suspension according to your need. You can easily adjust its suspension for a soft ride on bumpy roads and a more stable ride for jogging.
Quick Release Free Standing Fold
When it comes to folding, TRE gives three folding configurations. It has a self-standing fold for the garage to keep it anywhere and use it whenever. You can also fold it flat to fit in the car trunk. If you want to store the stroller for a long time, its compact fold helps keep it for long time.
Don't Ignore
Some parents are not satisfied with its storage basket and gave the review of its less storage space. The stroller seat may give a compromised space for big and tall kids.
However, Chicco TRE offers all the essential specs. It has super easy maneuverability. It comes with a sturdy build that gives a durable stroller usable for a long time.
Let's Conclude
So this is the list of the best jogging strollers that are suitable for running and everyday use. All the strollers on the list come with the feature of hand brake. I've provided an alternative product where a suitable match is available. All the strollers on the list accept infant capsule except the Baby Jogger Summit X3. Overall, the whole list will give you excellent products to choose from.
If you have any query or a suggestion, just paste that below in the comments.
Happy Strolling!