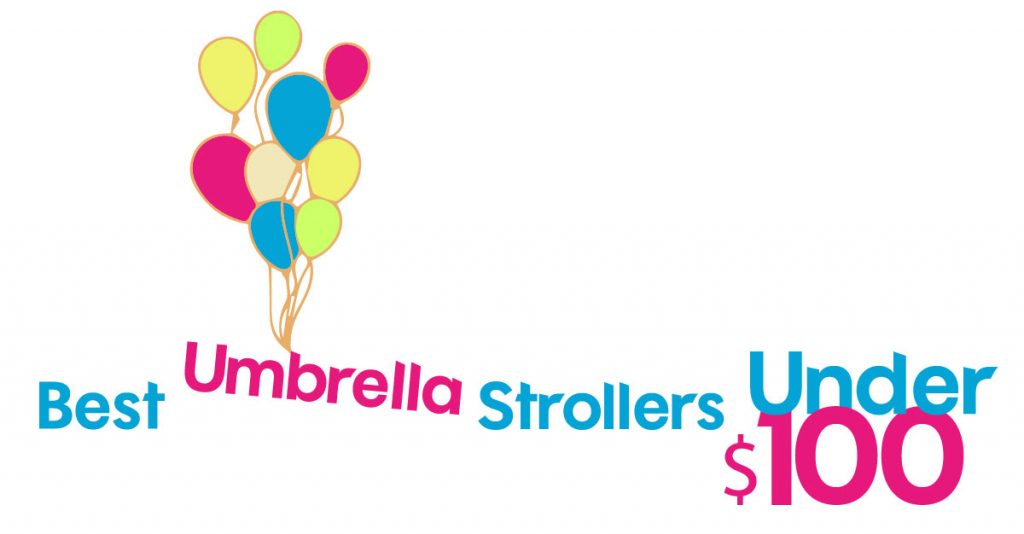 In this article, I'll help you buy the best umbrella stroller to fulfill your strolling and traveling needs in the budget range. A good umbrella stroller can help you in the long term, and you can also use it as a regular stroller. Before diving below, read this exclusive guide to know all about baby strollers.
I've sorted the following list into two categories. The first category has the best umbrella strollers that fall under $100. The other one will give you the best umbrella for under $50. All products are carefully selected based on their ratings and the reviews of the parents who used these strollers. Let's start with the best under $100 category.
---
---
Best Lightweight Strollers Under 100
I've included Summer 3D Lite and Jeep North Star in this list, which are the best rated umbrella strollers for tall parents.
Summer 3Dlite Convenience Stroller
Here comes the Summer 3Dlite, a stylish and reliable umbrella stroller that gives many options at a lower price tag. It provides a stable ride for regular strolling and traveling. With theme park-approved design, you can take it anywhere without any hassle. Its handles have a rubber grip for having better control over the stroller.
A large seat area provides sufficient room for the baby to sit. Baby can sit inside safely with its secure harness. The canopy over the seat can stretch in and out.
Allows Multipurpose Uses
Like its name, it gives the convenience for parents to use for travel or as a regular stroller for daily strolling. Its durability makes it a stroller to use for a long time. So you'll get a reliable strolling partner with less burden on your pocket.
Four Position Recline
Its seat has four-position reclines that allow you to incline the seat according to your desired position. One fantastic thing is you can recline it almost flat that gives a very comfortable place for the baby to nap.
Five Point Safety Harness
A five-point safety harness provides complete secure seating for the baby. It is easy to clip in, and you can take out the baby from the seat by just pressing the harness button.
Sufficient Storage
Usually, umbrella strollers don't provide massive storage as they're made to be lighter in weight. But 3Dlite gives sufficient storage space underneath that can store little things like your jackets or any other small item.
Compact Fold
The compact fold is the option that attracts many people, the umbrella strollers fold down very small. Compact folding makes stress-free transportation of the stroller. So 3Dlite has a compact fold to give the ease of storing and carrying the stroller.
Don't Ignore
Its canopy is not big enough to provide a complete sunshade. However, the canopy is an option that is not important for an umbrella stroller as it's meant to be compact. So you can consider this stroller if the canopy is not an issue for you.
---
User Reviews For Summer 3D Lite
This stroller has several reviews written by its users on Amazon. Have a look at its user reviews summary.
5 Star
How did customers describe it?
| | |
| --- | --- |
| Great Stroller | 60+ customers used this phrase in their reviews. |
| Lightweight | 40+ used to describe it. |
| Easy to use | 30+ described it. |
Most customer who gave it five star are happy with its:
Lightweight.
Easy folding & opening.
Easy to maneuver.
Easy to use.
Disney World compatibility.
Breathable side mesh.
A user in this section reviewed that it is great for tall parents, it has a wider seat and is comfortable for her baby.
A customer reviewed it as a great stroller for the airport and little walks. Moreover she is very happy with its recline which helps her baby to take a cozy nap.
A buyer reviewed it as a "Portable and sturdy" stroller. She said that it has an easy push for her 6.1 feet taller husband and comfortable for her kid.
Prominent reviews
All Four Wheels on Ground – Excellent Product – Definitely Recommend
Great for tall parents! Lightweight, easy to assemble and extremely maneuverable
4 Star
A customer here purchased this stroller for her 3 year old child for Disney World and found it great. It was a very convenient stroller for her during travel. She liked its almost flat recline feature which helped her little girl to easily nap. She gave it 4 stars because her stroller's canopy was damaged by heat on the first day.
Another happy user is satisfied with the stroller but she gave it 4 stars because its handle grips were worn out during her first trip.
A user is not happy with its folded size and she gave it 4 stars due to this reason.
Prominent reviews
Would be perfect if it folded smaller
Overall – great value and holds up after many miles
3 Star
This section has mixed reviews . A customer here was not satisfied by its wheel quality and gave it 3 stars. Some users aren't happy with its canopy and storage basket.
Prominent reviews
The price reflects the quality
Shallow seat , small hood.
2 Star
Most customers here aren't satisfied with its build quality.
Prominent reviews
Lots of pros – and some cons
1 Star
Few users aren't satisfied with its wheels. A user is not happy with its folded size.
Prominent Reviews
Broke during first use… don't recommend.
---
Jeep North Star Stroller
This stroller provides a comfy ride with its padded seat. You can roll the seat to open the mesh back for creating a headrest. Jeep North Star is JPMA certified to meet all safety standards set by the CPSC and ASTM. It's safe for children up to 40 pounds. A stroller with a sturdy frame and compact fold gives you a travel-friendly product.
Parent Features
This stroller provides good options for parents like a storage basket underneath, and a parent cup holder. Extra-long umbrella handles with rubber grips give a better place to grasp and push the stroller.
Travel Friendly
It's a travel-friendly stroller that gives the convenience of its easy portability during air travel and road trips. It folds down compact to fit in small places.
Extendable Canopy
This stroller comes with an extendable canopy with a sun visor that gives a sunshade for little kids inside the stroller.
Comfy HeadRest
Its padded seat rolls up to uncover the mesh back to create a comfortable headrest. Baby can have cozy seating inside the stroller.
carry-all parent organizer
You'll get a bag in the box for storing diapers and other little items. This carry-all parent organizer is to help parents to remain organized.
Front Swivel Wheels With Suspension
Another good option of this stroller, front swivel wheels have a suspension system to provide better and smooth maneuverability. Suspension helps to give a comfortable ride and easy rolling. Its suspension works great on pavements.
Don't Ignore
The Jeep North Star is a beautiful stroller, but it doesn't have a seat recline. A little drawback of this stroller may not be a problem for you if you want to use a stroller for short walks or occasional traveling. Moreover, its canopy is good but not big enough, and that is due to its class of being an umbrella stroller. Overall it's a good stroller available at an economical price.
---
User Reviews For Jeep North Star
5 Star
This section has satisfied customers.
How are users describing it?
| | |
| --- | --- |
| Great stroller | More than 150 buyers use this phrase in their reviews. |
| Lightweight | 80+ users described it as lightweight. |
| Easy to fold | 70+ buyers found its folding easy. |
| Easy to put together | 20+ described this. |
| Highly recommended | More than 20 buyers highly recommend it. |
This stroller earned 5 stars for its:
Lightweight.
Easy folding.
Tall enough.
Comfort.
Prominent Reviews:
Excellent travel stroller that is tall!
4 Star
Here you'll find satisfied buyers who are unhappy with some issues. Have a look at what the users are saying here. (Summarised form)
A user reviewed that it's not very responsive and requires effort on turns. Canopy is not sufficient for proper sunshade. Overall she recommends it as a solid purchase.
A buyer recommended it as a "Huge asset for family vacation" and she bought it for her 4 years old daughter. She is happy with it but gave it 4 stars because its wheels started to make noise.
Prominent Reviews
Good stroller for the price!
3 Star
Squeaking wheels is a common problem here. Moreover, some buyers are also not happy with its hood.
Prominent Review:
2 Star
Here few customers are complaining about its squeaking wheels. A buyer is not satisfied with its build quality.
Prominent Review:
Ok for the small jobs … if you plan on extended use look elsewhere
1 Star
Here we'll find angry customers who are entirely dissatisfied with this stroller. Again most customers here complained about wheels.
Prominent Review:
Horrible wheels, cute stroller
Alternative Brand To Jeep North Star



Another stroller that offers fantastic options may take your attention. Delta Children 365

gives a lot of useful specs to provide the best value for your money.
---
Best Umbrella Strollers Under $50
Baby Trend Rocket
Baby Trend Rocket is a compact stroller that comes with various options to make your traveling easy. It has a sleek and straightforward design that allows you to pass on easily from narrow spaces. It has a four-wheel base, with a double wheel under all corners. You can easily roll this stroller on pavements. This stroller has a little canopy that gives it a smart look.
Parking Brakes
It has a dual foot-activated parking brake to stop the stroller from self-moving. Brakes have an easy operating system. Dual locking the rear wheels provides extra safety.
Five Point Safety Harness
The five-point harness gives complete safety to the little child inside the seat. A five-point harness enables the parents to take out the baby from the seat easily.
Taller Easy Grip Handles
This stroller has taller handles with rubber grips to grasp and quickly push the stroller. Taller umbrella handles provide better control over the stroller.
Parent Tray
Its parent tray comes with two cup holders with a zipper pouch. This little parent-organizer hangs with the handle.
Compact Fold
It folds down compact to help in the easy portability of this stroller for travel. The stroller can stand on its own after folding. Latches are also given for the extra safety of the folded stroller.
The manufacturer provides these details.
Don't Ignore
This stroller has a canopy that's very small and not suitable for hot sunny days. Some parents argue that it requires hard work to fold down. Its seat doesn't give the recline option. Overall it's a wonderful stroller if you want a stroller for occasional use.
---
User Reviews For Baby Trend Rocket
it has a healthy amount of reviews. Have a look at the summarised form of these reviews.
5 Star
How Many Users Described It As:
| | |
| --- | --- |
| Great stroller | 30+ |
| Lightweight | 20+ |
| Easy to fold | 10+ |
Happy customers gave it 5 stars for its:
Lightweight.
Portability.
Sturdiness.
Prominent Review:
4 Star
A buyer here gave it 4 stars because of its limited storage basket.
Another customer gave it 4 stars because her stroller's wheels are disturbing during the ride.
Prominent Review:
Honestly pretty solid. Grips could use a stronger material but …
3 Star
A customer gave it 3 stars because of its small basket and absence of seat recline.
Another user complained that its wheels make noise.
2 Star
Common complaint here is about its wheels.
1 Star
The most angry customers section has reviews of customers who aren't satisfied with its build quality. Moreover, buyers are also complaining about its wheels.
Alternative Brand To Baby Trend Rocket Disney Umbrella is a specially made stroller for the babies with the Disney design, which creates an attraction. This stroller is for parents who want a small compact stroller that can move quickly.
Final Words
An umbrella stroller's primary purpose is to give parents ease of traveling by having a small compact stroller. So in the list above I've recommended the best budget travel strollers available on the market. For your convenience, I've categorized them under two slots.
The first one gave you an insight into the best lightweight strollers under $100, and in the second class, you got the best under$50. You may choose any one of these strollers based on the amount you want to spend. All of these strollers are best in their field, selected based on the parents' reviews.