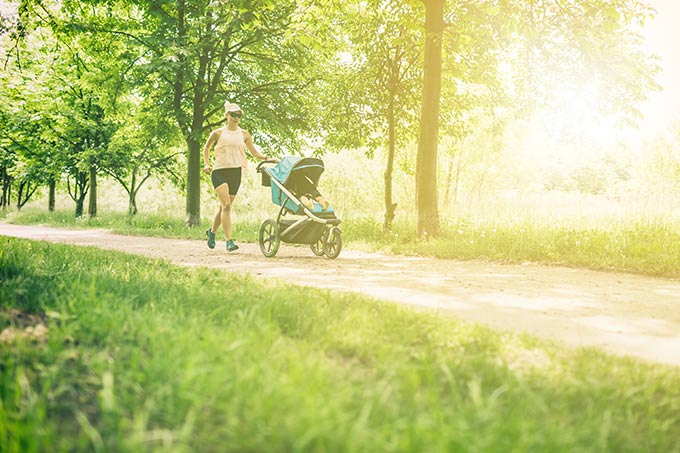 Are you planning to buy a jogging stroller and don't know what value it will add to your life? People often ask different queries about these strollers before spending their hard-earned money. Asking questions before purchasing anything is the right strategy that every smart consumer adopts. A proper pre-research will make your mind clear to develop a choice map. It helps in determining what your actual want is. What product matches your demand? And then spend on the right product after finding your right match to the need. As no one wants to spend on a useless item.
This article is for the parents who want to buy a jogging stroller and want to know how a jogging stroller will benefit them. I've explained different queries about jogging strollers below to help those parents. You'll get detailed elaborated differences between jogging and regular strollers. Then I've written specific perks that jogging strollers offer. Moreover, other relevant questions that people ask about these strollers are particularly answered below to help you in deciding to buy or not to buy a jogging stroller. Let's dive into the article.
Why Have A Jogging Stroller?
You might think it's just jogging with the stroller, so why buy a jogging stroller when I have a regular stroller? The simple answer is you can't jog with a regular stroller as It's not made for running. Its design and architecture don't support the fast pace of jogging. The standard stroller is the best to serve the needs of routine walking and day-to-day strolling but worst for jogging.
Usually, regular strollers have four-wheel bases with a multipurpose chassis. A quality-made regular stroller is the best for routine use but strictly not recommended for jogging because it's harmful to both baby and parent to jog with a regular stroller. You'll need a jogging stroller if you want to jog with the stroller. Below I've elaborated on why you need a running stroller by explaining its unique features.
Distinctive Characteristics Of Jogging Strollers
Jogging strollers have unique specs that enable them to help you in running. Let's have a look at the exceptional features of jogger strollers that make them different from regular strollers.
Three-Wheeler
Jogging strollers come with three-wheel bases. They are engineered specifically for jogging purposes. Their sturdy frame and architecture make them able to cope with the motion of running. Their three-wheel bases with bigger air-filled tires provide the perfect ride on workouts. Mostly they've pneumatic tires to add more stability and control during the jog.
Bigger Wheels
Running strollers have bigger wheels that make them capable of running on any terrain. The wheel sizes vary from 12 inches to 16 inches depending on the brand. With such big wheels, you can go anywhere with a jogger stroller. Bigger size wheels make it a super-fast stroller that can roll on quickly with a little push to help easy jog with it.
Sturdy Frame
Jogger has a different design and structure as compared to a regular stroller. You may call it a type of heavyweight stroller made to bear the crumbles and bumps on uneven roads. With their bigger wheels and their unique mechanism, jogging strollers give effortless rolling and easy movability by pushing with just one hand.
Sound Suspension
Although some regular strollers have suspension. But their suspension is good for pavements. Running strollers come with sound suspension that makes them good for off-road strolling and jogging. They work very well on bumps and uneven pathways and give a smooth ride that you can't expect from a regular stroller.
Responsive Brakes
Decelerating brakes are needed when you're running with a stroller. Most jogging strollers come with hand brakes. Some running strollers that are available on budget range lack the feature of hand brakes. Hand brakes help in controlling the stroller during a jog.
Running Leash
Running leash is an additional safety spec that most jogging strollers come with. You can wear this leash on your wrist. This will help you effectively control the stroller when you are running or taking a break. Moreover, you'll have peace of mind when wearing this strap as the stroller will not go out of your control.
Where Jogging Stroller Beats Regular Stroller With Its Exceptional Benefits
Running with the jogging stroller doesn't make you a bodybuilder. But this workout has some exclusive advantages that I'm going to explain below. You've read the unique options that a good jogging stroller has. You might have thought that's great but where a jogger becomes a better stroller than a regular one and what benefits will it give for running with it?
There are many reasons that make a jogging stroller a superior baby carrier when we compare it to a standard stroller. Below, we'll discuss the extraordinary and versatile options that jogging strollers have over regular strollers.
You Can Use Jogger Stroller As Regular Stroller
You can't use a standard stroller for jogging as it's made for the specific purpose of routine outings and sidewalks. But if you have a good jogging stroller then you can also take it out for everyday use. A jogging stroller has versatile functionalities that give it the capability to play in all fields. Modern jogging strollers allow car seat compatibility and you can also buy a complete jogging travel system. You can use it for a newborn if you purchase a jogging travel system. You can take it on a jogging tour or use it as a regular stroller. You'll not get this versatility in any regular stroller.
You Can Spend Quality Time With Your Baby
Running with the jogging stroller helps you to spend quality time with your baby. Suppose you have a regular stroller and want to jog then you'll have to leave the stroller for jogging. But when there is a jogging stroller in your hands then you can directly take off for running with your baby inside the stroller. Moreover, little kids enjoy the jogging rides and the pace of the stroller makes them happy.
They've Smooth & Easy Maneuverability
Running strollers give super smooth and easy maneuverability that regular strollers lack. As standard strollers have small wheels so they aren't able to give as soft rolling as jogging strollers give. Jogger stroller will give you an exceptional comfort ride whether you're using it for jogging or for regular outings.
Jogging Strollers Have Long Life
Jogging strollers are made sturdy because they have to carry the weight at high speed. This sturdiness gives them a longer life when we compare with regular strollers. If you've purchased a good jogger stroller for the first baby then it can help you for the second, third, and even fourth baby depending upon the usage. One single stroller will become your family stroller. People often ask about how many strollers they should buy. I've covered this query with a dedicated guide article here.
They Give Money Saving Deal
As I explained above that you can use a jogging stroller for day-to-day strollings. Jogging strollers give you a money-saving deal with this option. If you purchased a quality-made jogger then probably you'll not need any other stroller for your regular strolling tours. On the other hand, if you have a regular one and want to jog with the stroller then you'll have to buy a jogger. So a jogging stroller helps to save your money.
It's A Healthy Choice
Running with a jogging stroller is a healthy choice that will benefit you to keep yourself active. Strolling with the baby is a routine activity and when you incorporate additional workouts into this activity then it'll help you to maintain a healthy lifestyle.
They Save Your Time
By having a running stroller you can jog with the stroller when you're out with the baby. It helps to save your time. You can't expect such luxury from a regular stroller. Moreover, you'll have a multipurpose stroller in the shape of a jogging stroller. Which will help you to take more out of less time.
Let's Conclude
Here I culminate this article. I hope that this article has helped you in understanding about specific uses of jogging strollers. I've elaborated in detail by explaining the unique features of running strollers that make them different from regular strollers. Moreover, I've described the exceptional benefits of running with jogging strollers to explain the value that they will add to your lifestyle. If you have decided to buy a jogging stroller then head on to this exclusive jogging stroller buying guide. This guide will help you in choosing the right jogging stroller.
If you've any questions in mind just ask me below in the comments.

Happy Strolling!