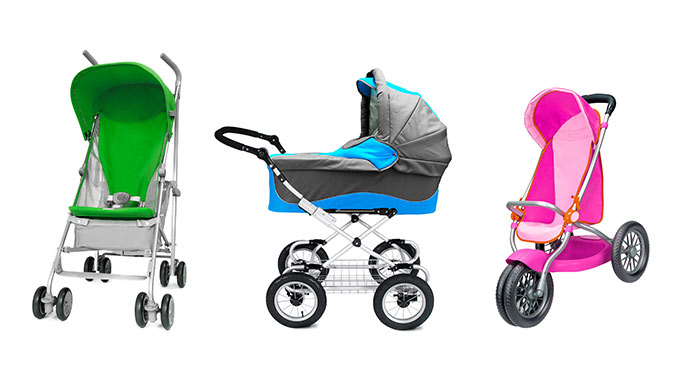 How many strollers do I need? People often ask this question. Especially first-time parents want to know that one stroller is enough or they need to buy more than one? There are so many things to consider when you start your family. One of the most important questions you will have is how many strollers should I own?
There are many factors to consider when deciding how many strollers you need, but the number one factor is how many kids you have. If you only have one child, then there may not be a need for more than 1 or 2 strollers. However, if you have two children and both want to ride in the same stroller at different points in time, then it would make sense to purchase more than stroller.
In this article, we will discuss how to determine how many strollers are needed and how parents can avoid costly mistakes that come with owning too many of them.
How many strollers do you need?
Do you need more than one stroller? The short answer is: yes for parents with multiple children in diapers and preschoolers who love to play together, might find themselves needing two or three strollers. There are many options for how parents can choose how many strollers they need and whether they want side-by-side double, joggers or tandem ones.
The number of strollers needed will depend on your lifestyle, budget, and how often you plan to use them. Most parents tend to own at least one type of stroller, an everyday umbrella model for casual trips around the neighborhood or quick jaunts to the store. You might also want one that is made for jogging or rough terrain or a complete travel system if you enjoy staying active with your stroller-bound children.
As for how parents can pick how many strollers they want, there are several things to consider: how much space you have in your car or home and how long it takes you to get out of the house. Parents who live in big cities with crowded streets might find having a tandem style double stroller helpful instead of two strollers for two kids. 
On the other hand, parents with more space in their homes or cars might find that one side-by-side double model is all they need. With this type of double stroller, babies/toddlers are usually seated right next to each other so it's easier to play together and mommy doesn't have to spend extra time setting up two strollers every morning. However, most families still like having at least one single mode as a "backup". 
Stroller types and uses
Umbrella Stroller
This is the smallest kind of everyday use with the most convenient design and simplicity, making it easy to fold up and carry around with ease. It has adequate storage space in its basket but may prove difficult when trying to fit large items like diaper bags inside or attaching extra toys on top. You might want an additional larger size if you have multiple children or plan.
Jogging Stroller
A full size jogger is for parents who want to exercise with their child or run on trails. But it has some limitations like you can't jog with an infant inside the seat. 
Standard Stroller
A standard stroller comes with storage space for everyday use and longer outings which is a great entry-level option for parents.  A standard everyday stroller that can handle sidewalks, grass, gravel and some rough terrain.
Double Stroller
A double stroller is the best fit for you if you've twins or two kids of different ages. This is not an option for everyone, but it's the way to go for those lucky few who have been blessed with sharing their lives with more than one child at a time.
When People Buy More Than One Stroller
Buying more than one stroller is not necessary at all. Some particular conditions and lifestyles require people to buy an extra stroller. One important thing to keep in mind is that every stroller you purchase other than your primary stroller will be your occasional stroller.
Usually, people buy a second or third stroller:
When they want a stroller for traveling.

When they need to jog with the stroller.

When they have a second child.
Observe Your Lifestyle
Now observe your lifestyle, your circumstances match with which situation:
Do you travel frequently?

Are you a fitness enthusiast?

Is there a new guest in the house?
Questions in these bullet points are helpful to direct you to a problem-solving answer. To have a more straight answer, first, we'll discuss the one must-have stroller that everyone needs, irrespective of the situations mentioned above.
Primary Stroller That You Must Need
Stop thinking about how many strollers do I need. One must-have stroller you will require for daily use. That stroller will be your primary one, a regular full-size stroller that is appropriate for daily use. Regular strollers are designed explicitly for everyday strolling.
Regular strollers are of different kinds, depending on the age of the children. You can buy any good regular stroller for a toddler or infant. The optimal approach for newborns is to buy a stroller that supports a bassinet or a car seat. This stroller can serve your baby from birth to throughout the toddler stages. You can also buy a full-fledged travel system or bassinet stroller as your primary stroller.
Regular strollers offer sufficient space to store little sundries and other items like diaper bags in their storage compartments. These daily use strollers will help you walk on aisles, pavements, and sideways, but you can't use them to travel, especially when traveling by air. However, if you have sufficient trunk space for your stroller for road travels, then a regular full-size stroller is enough for you. You don't need to buy any extra stroller.
What You May Need Other Than Primary Stroller
Bought your primary stroller and want to do some running with the stroller? Your regular stroller will not support you in this job. You'll need a dedicated jogging stroller to jog with the baby. Below, I've explained the specific needs and the strollers to fill those needs. This detailed elaboration will help you find out the exact answer to how many strollers you need.
Travel Stroller If You Travel Frequently
In some situations, you will have to buy an extra stroller. For example, if you want to go on vacations or a family trip or travel by air with your baby, you might need a travel stroller. A lightweight stroller will make your travel easy. These kinds of strollers are super lightweight and have super compact folds.
Some people use this stroller as a primary stroller, but this is not suitable for daily use. You will wear out a travel stroller soon if you use it for daily strolling. An ultra-light, super-compact travel stroller is ideal for occasional travel use. Appropriate for airports and paved surfaces, even cobblestones will be difficult to pass on. However, some brands give sturdy lightweight umbrella strollers that allow using the stroller for regular outings.
The ideal use for this class of strollers is as a vacation stroller. Suitable for a child between six months and a maximum of two & a half years. If you want a travel stroller for a newborn, then buy a travel stroller that allows the car seat to fit in.
So if you have frequent travels on your schedule and have to carry a baby with you, then an ultralight compact stroller will help you make travel easy. The primary stroller is bulky and heavy. You can face difficulty while traveling with your primary one.
Jogging Stroller If You Want To Jog
People who love to maintain their fitness want to utilize the maximum of their time. They don't like to waste their minutes when strolling with the baby and want some beneficial output from this activity. Here come specifically designed three-wheeler jogging strollers to help those people for a workout with the stroller.
A regular stroller has a structure supportive of slow pace rolling. Its design, construction, and mechanism don't support moving it at high speed. So if you want to jog with your stroller, then buy a jogging stroller. These strollers are available in different categories like you can buy a hybrid one that is fit for jogging and everyday use. You can also buy a budget jogging stroller if you don't want to spend a huge amount and just need a jogger for occasional use.
Three significant components that make a jogging stroller are;
Air-filled tires
Jogging strollers come with air-filled bigger tires. Air-filled tires help absorb the energy you put on the stroller to push and make strollers easy to roll on.
Suspension
A good suspension also absorbs some part of the energy and soaks the bumps for giving a soft ride. Both tires and suspension play an essential role in moving strollers smoothly and giving your baby a very comfortable ride.
Front Wheel Lock
Locking the front wheel allows you to move straight while jogging. The stroller naturally goes straight with a locked front wheel. That helps you to apply less energy to keep the stroller straight.
Remember that the baby should be at least six months old to jog with you inside the stroller. However, the most appropriate approach is to wait further until the baby gets eight months, as it's enough old age to develop a mature spine and neck development to withstand the motion of jogging. While jogging, there will be many up and down movements when the stroller is moving over the pavements.
Stroller For Second Child
Usually, parents buy one stroller and keep using it for their first, second, and even third baby. That's a good strategy, and the best first-time purchase can cater to your all children's strolling needs turn by turn. It will be a money-saving deal if your children have wider age gaps. But what if the children have an age difference of fewer than two years? Then you will have to buy a second stroller to keep both of them happy.
In this situation, you would not need any second stroller if you'd bought a convertible stroller for the first child. The convertible stroller has already solved the problem. These are fantastic strollers to save money in the long run, and parents can easily stroll around with both kids simultaneously. The convertible strollers can be used both as a single or a double stroller. You can adjust their seating according to your requirements.
But if you didn't buy a convertible stroller for the first child, you'll need a second stroller. Here comes another fantastic option for you in the shape of double strollers. You can buy any good double stroller between tandem double or side by side double strollers.
Both tandem and side by side are good double strollers in their respective fields. A thorough guide on choosing the right double stroller has further explained the types, uses, and utility of double strollers under specific conditions.
Final Words
It's easy to fall in love with all of the cutest models at local stores so don't go overboard or it'll be hard for your wallet. However, if you are still unsure about how many strollers you need then chat with friends who also have kids or check out reviews on Amazon for pushchairs that have product descriptions (and sometimes photos) written by real customers like you. There are lots of options available but only some will work well for your lifestyle depending on your specific needs.
Our advice: don't buy more than two unless you've some  sort of specific needs like if you travel too much with your kids then you might need a travel stroller. 
The number of strollers you should own depends on the age of your children and how often you plan to use them. If you have very young children, or twins, then a double stroller is the best with a single stroller as backup is the suitable scenario.
The most important thing to do when deciding how many strollers you need is to understand what your lifestyle will entail after the baby is born. If you plan on going out a lot with your child and don't have a long wait in between children, you'll probably need a double stroller for everyday use. However, if the second one's on its way soon or you live in a small space, then getting by with less might be fine. 
Just remember that whatever method works best for you and your family is the right choice. Don't let anyone – not even this article – push you into thinking that there's only one right way to go about this.
Happy strolling!